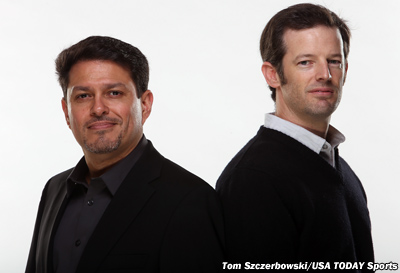 An easily overlooked, yet vital, position within the fight game: the matchmaker. Match-ups that don't fancy the taste of fight fans cause the matchmaker to become a scapegoat, but a match-up that wets a fight fan's whistle produces intrigue, pay-per-view numbers, and emotional highs and lows, though the matchmaker is often glossed over in the list of acknowledgments for spectacular scraps.
Terrific match-ups can't always be super-fights, nor are super-fights with any level of consistency a possibility. A fan accepts a matchup as legitimate, necessary, and worthy of their hard earned money when it, simply, makes sense. Possible reasons a match-up makes sense might include: tension between individual fighters or feuds amongst training facilities; stylistic difference, or similarities; experience factors, such as ranking; or maybe enough fans joined together to let their voices be heard.
Recently, there has been discussion about possible match-ups for Josh Koschek (19-10-0). Koschek is riding a five-fight losing streak, which some have argued puts him in a position to be cut from the UFC, maybe finish out his career biding for belts in other organizations. Stay or go, he hasn't ruled out his desire to fight again, but who, if he stayed in the UFC, could he be matched up against?
On Episode 64 of Cage Side Submission Radio, CSSR, host, Steve Rychel, suggested that Koschek be matched with, UFC newcomer, CM Punk (0-0-0). There is a great deal of buzz around CM Punk being given the opportunity to fight in the UFC with no professional mixed martial arts experience; Koschek, like him or hate him, brings a vast amount of experience and viewers to his fights inside the Octagon. Brilliant!
Another terrific match-up that has floated out into the social media, see below from MMAFighting.com, realm were hints of a Dan "The Outlaw" Hardy (25-10-0) return. Hardy, a gritty Englishman who always left the Octagon with his shield or on it, was a fan favorite. MMA fans around the world would, more likely than not, tune in to see Hardy's red mohawk, once again, step into the Octagon to scratch his competitive itch.
Hardy wants to return for two more fights; still wants piece of Koscheck (@davedoylemma) http://t.co/meNdia42FL pic.twitter.com/esLKMNpGGk

— MMAFighting.com (@MMAFighting) April 1, 2015
Whether it's a matchup of experience on a downward slope versus one beginning his trudge up the mountain or a battle of two experienced UFC veterans who desire to challenge for their place on welterweight hill, fans win. Thank you matchmaker!
By day, I'm an elementary school teacher. By night, an MMA enthusiast bringing those closer to the fence another perspective.
Latest posts by Dave Madden (see all)