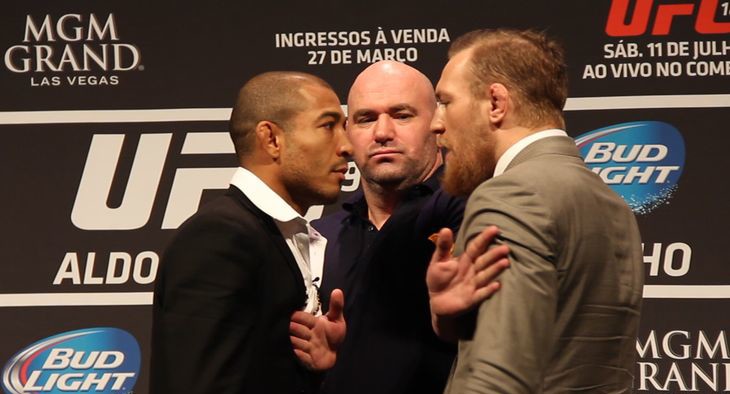 Each day, our goal should be to learn something new. Big or small, doesn't matter, simply attempt something that you didn't attempt in previous days. Today, I opted to go big: I was diving in headfirst, which I've done before, though this time I was also mixing in some flips and spins, and I made a very big splash. Luckily, I was awarded at least one one out of ten, and I'll take it!
On the last leg of their World Tour, UFC 189 headliners, "The Notorious" Conor McGregor (17-2-0) and featherweight champion, Jose Aldo Jr. (25-1-0) made their appearance in Dublin, Ireland. Due to schedule conflicts, and this and that, I never had a chance, of ALL the stops these two have made around the world, to observe one of the conferences live; I've watched each stop either recorded or through the UFC Embedded series. Well, today I cleared the calendar and ensured that I would not miss a moment of the presser. In addition to giving a press conference all of my focus, I was going to combine my limited knowledge and practice with social media. My goal: I wanted to reach out to the masses in the MMA community with my perspective of the events unfolding before my, and all of our, eyes, and I wanted to accumulate the vantage points of others, as a way of better understanding the sport.
Once I was able to position the two windows I needed open, Twitter and the UFC Press Conference, I figured I was good to go. It turned out that composing tweets and having a clear view of the presser was trickier to toggle between than I had anticipated. After shooting out a couple practice Tweets, letting the digital world know I was coming, everything was working at a level I'd consider good enough. Setup completed just in the knick of time to observe Dana White, president of the UFC, take the podium and introduce the two combatants. Once McGregor was announced, the noise level could have easily given the Seattle Seahawks' 12th Man a run for their money. I thought,
#UFCWorldTour It makes me happy to see a crowd so happy!

— Dave Madden (@DMaddenMMA) March 31, 2015
Everyone else must have been really excited at the exact same moment because nobody had an opportunity to retweet or favorite my comment. I couldn't sit there and worry about people commenting or not; I diligently got back to any notable observations I could share about the press conference. I wasn't able to jot any down through Twitter, because I was so caught off guard, but the media had only asked a handful of questions before the Irish fans took over the microphone. As soon as the fans got hold of the mic, I was reminded of the press conference held in Brazil, though on steroids. There was one fan who stood out to me. This fan was a carbon-copy of McGregor, from the suit to swagger, and he belted out every ounce of praise he could to the "King". My thoughts at that moment were captured as,
Connor's brother? #UFCWorldTour — Dave Madden (@DMaddenMMA) March 31, 2015
Maybe that comment wasn't as funny as I presumed. Sometimes, I can have a very dry humor, and people either take it or leave it. Apparently, this time everyone left it. I wasn't going to let it get me down. I was having a blast watching Irish fans take shots at Aldo the same way Brazilian fans had at McGregor at the start of this tour. I was stunned to discover Brazilian fans grab hold of the microphone to sing their praises to Aldo; therefore, I couldn't share my surprise with everyone else because I was waiting to see beer thrown on them, or worse.
Finally, in all the heckling of Aldo, some of the Irish onlookers got to the meat and potatoes and asked McGregor how this fight was going down. McGregor has had four fights in the UFC, and he has called the finish to three of them; the Dennis Siver fight ended in the second round, instead of the second minute, ipso-facto, a two was in the calling out. I tuned in closely to get any insights as to how UFC 189 was going down, wondering if McGregor truly was our new-age Babe Ruth. He went on to say this fight was ending in the first. Ireland's "King" didn't stop there; he went on to say that he'll go after other Brazilian champions next, like those in the lightweight division, meaning newly crowned champ Rafael Dos Anjos (24-7-0). His shot was called, so I assumed the best thing to do is print the prediction for the world. I Tweeted out,
Connor vision-Round 1 #UFCWorldTour Uh oh…

— Dave Madden (@DMaddenMMA) March 31, 2015
With no comments or anything after that, I figured that interacting with social media and enjoying events at the same time is for the birds. I decided to not give up just yet, and I should see this press conference as I had intended, interacting with cyberspace. In an offhanded comment, I put out there,
I'm surprised McGregor doesn't call our Junior Dos Santos #UFCWorldTour — Dave Madden (@DMaddenMMA) March 31, 2015
I don't know if you noticed… not the typo, out not our, but if you look closely, you'll notice that this comment was retweeted and favorited! The MMA community was reaching back to me. I believe there is a saying, "If you touch one, you touch them all", and I had made my first mark on the digital world and the MMA community. I am realizing that I just need to work on my timing and delivery of lines. I'm not going to lie; it's difficult to keep up with all the action of an event and inform the social media world of all my insights, so I definitely have that to work on. Just as I'm planning my next course of action in case anything else happens, McGregor snatched the featherweight belt right out from underneath Aldo's nose. There was a bit of a tussle, but Dana White settled everyone back down so things could continue. Before the fighters were reseated, Dave Sholler, acting Sr. Director of Public Relations with the UFC, sent out this Tweet,
This is madness. Aldo vs. McGregor press conference in Dublin. McGregor steals belt. Aldo goes after him.

— Dave Sholler (@Sholler_UFC) March 31, 2015
I was right on the edge of my keyboard to send out a similar Tweet. Dave Sholler didn't even use a hashtag, and he received thirty-one retweets and twenty-four favorites. It must be a case of wrong Dave, wrong time.
I decided to lay low on social media for the remainder of the press conference. I didn't want to step on Sholler's toes anymore. Clearly, he had the MMA world where they needed to be. Everything wrapped up with more comments, cheers, and the always anticipated face-off. During the final face-off of the UFC 189 World Tour, McGregor took a swipe at Aldo, and the camera cut away before anything could really be witnessed. I waited, and waited, for the camera to point back toward the two featherweights, though when it did, it only showed McGregor and Aldo walking away from one another and off the stage. I didn't want to leave my fan-base without any closing thoughts on the day's event, so I posted,
I want to know what happened when the camera cut away #JerrySpringer #UFCWorldTour — Dave Madden (@DMaddenMMA) March 31, 2015
My comment was met with a thunderous ovation. The digital audience left me the praises of a favorite. Don't you want to leave them wanting more in show business?
I am not completely shut off to enjoying another event while also incorporating social media, but I will be recruiting the assistance of someone else who I can dictate my witty analysis of occurrences and then have it posted for me. My jaw just about hit the floor when I realized how quickly others were able to post pictures and video splices of what was transpiring right before us. Hopefully, I am able to post the exact comment at the exact time to bring satisfaction to those who I adore most, the MMA fans who surround planet Earth.
By day, I'm an elementary school teacher. By night, an MMA enthusiast bringing those closer to the fence another perspective.
Latest posts by Dave Madden (see all)