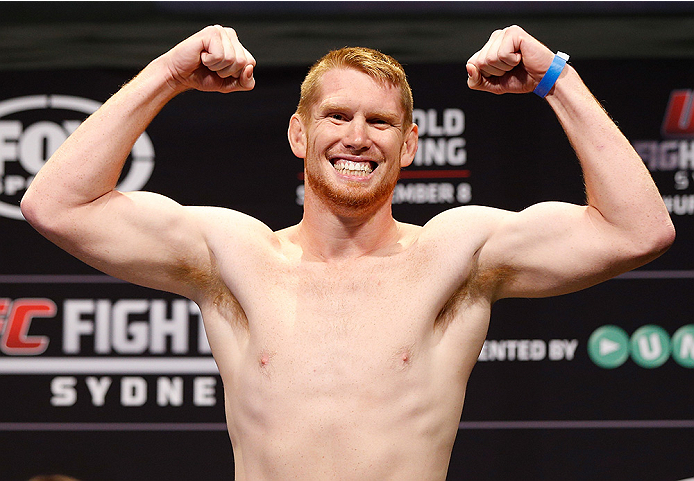 There are some mixed martial artists who put a smile on a fan's face because they know this individual enters the cage to put on a show, aiming for the big KO; some fans take pleasure, letting a giant grin sweep across their mug, anticipating a particular fighter will demonstrate toughness and durability; maybe a fighter forces fans to express elation because he or she will always model an unwavering happiness to be exactly where they are: a professional athlete competing in the ultimate proving ground. UFC middleweight "Smile'N" Sam Alvey (25-6-0 1NC) is all of these fan favoring elements rolled into one, so turn that frown upside down!
How can a fight fan not find satisfaction in knowing they're pretty much guaranteed a stand-up war from Alvey, since his UFC.com stat sheet highlights him as a 100% striker. The only way Alvey is forcing an issue on the mat is to whisper a bedtime story in his opponent's ear as they lay unconscious. One-punch power is always something that creates a buzz for fans, but fans may also struggle to not find satisfaction is Alvey's "Smile'N", fun loving demeanor.
While participating as a co-host on Stand and Bang Radio, Alvey shared that he doesn't believe his opponents are as happy to see him "Smile'N" in front of them at pre-fight media engagements or weigh-ins. Alvey recalls what past opponents have said they're going to do to him,
"I've had opponents say they want to smack the smile off my face."
Little do Alvey's opponents know, this former Ultimate Fighter competitor's understanding of how to punch is nothing to smile at. Alvey learned about how to punch from his father. His father would say,
"If you're going to punch a guy, you're not aiming at his face; you're aiming for the back of his head, but you have to get there through his face."
Alvey built his fighting foundation upon these words from his father. He shared how a belief in punching with this mindset has stuck with him, even to this day,
"Every punch I throw, I've got that mindset. I'm not trying to punch his face; I'm trying to tickle his brain. Everything since then, I've trained myself that 'I'm not trying to hit the bag; I'm trying to break the bag."
Punching hard has worked out well for Alvey so far, and any continued destruction inside the Octagon will leave him "Smile'N" all the way to the bank with Performance of the Night bonus winnings. Alvey discussed why he believes his skill-set is so effective in his fights,
"I get out into the fight now, and I'm not trying to do something a certain way. I'm trying to get the result; I'm not trying to get the process." It's worked out really well for me."
If it's not broken, don't fix it. Alvey's upcoming bout will take place at UFC Fight Night 66 in Adelaide, Australia against Dan Kelly (9-0-0). Kelly will probably mimic previous opponents and try to force the corners of Alvey's mouth to point to the ground, but the only way Alvey intends to give that satisfaction to any of his opponents is by doing a handstand.
By day, I'm an elementary school teacher. By night, an MMA enthusiast bringing those closer to the fence another perspective.
Latest posts by Dave Madden (see all)