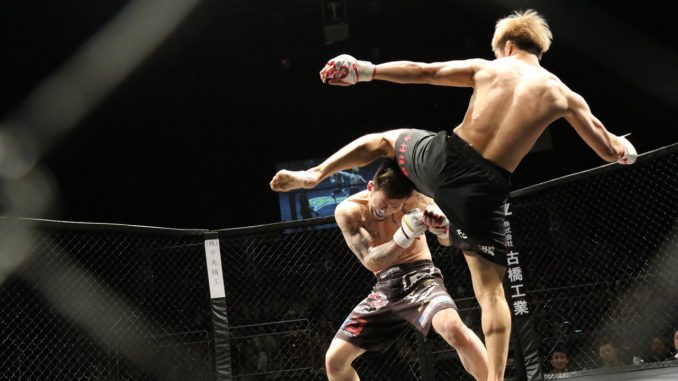 MMA is one of the most demanding sports on the planet today. Unlike many other mainstream sports in MMA you need to have a mastery in multiple different sports; wrestling, boxing, BJJ, Muay Thai. In addition to sharpening these skills, there are a number of physical attributes that are generally associated with being a top tier MMA fighter; strength, speed, durability, flexibility, endurance.
A lot of people might say the fighters who reside between 170 and 205 pounds are considered the best "athletes" MMA has to offer, a few names that might come to mind are Georges St. Pierre, Tyron Woodley, Yoel Romero, Rumble Johnson, and Jon Jones. Oftentimes when you get north or south of those divisions in weight people view can view them as inferior athletes, especially at heavyweight.
People wonder how MMA heavyweight giants like Alistair Overeem or Mark Hunt can possibly be a professional athlete in a sport that requires such a finite detail of skill. Yes, the game at heavyweight looks quite different from the game at featherweight, but you have to understand they are working with twice the body mass.
Usually, if you're a six foot plus 240lb plus human being you find yourself playing professional basketball or for a team in the NFL. Those sports are far better suited for someone of that size. For example, if you asked someone with the body mass of an NFL lineman to throw a head kick or execute a textbook triangle one would probably expect them to lack the dexterity necessary to accomplish such a feat.
Similarly, in basketball, Shaquille O'Neal is remembered for his dominant post-game, not three to five minutes stretches of time where he was running and jumping the floor coast to coast. Big men are simply not thought of to have a lot of the physical features outside of power that a lot of people associate with being a successful MMA fighter. From an athletic standpoint, they just seem better suited for more singular, short burst, style activities.
So how do guys like Alistair Overeem compete so successfully at MMA and for such an extended period of time? Guys like him and Mark Hunt have been around forever and are still making great livings fighting in the premier MMA promotion on earth.

Brock Lesnar had to cut to the heavyweight division limit and is regarded as one of the most iconic UFC champions in the company's twenty-something year history. It all has to do with how they tailor their games both in training and even more so in the cage come competition time.
The main thing you'll notice about these heavyweight giants like Alistair Overeem is their energy conservation. It doesn't take a rocket scientist to identify the fact that Frankie Edgar, who has a potential to play the lead in the next Rocky film or other action movies, fights, at a different pace than Bigfoot Silva.
Especially when you're built like Overeem and have a very significant amount of muscle mass to send oxygen to. It's why you don't see heavyweights engage in mad scrambles or throw blitzkrieg seven punch combinations like their lighter weight counterparts might.
If they were to do so they run the risk of completely draining themselves for the remainder of the round or even the fight. From the striking end, this is fairly easy to understand.
At heavyweight pretty much everyone has the power to put out everyone. Obviously punches in bunches is more effective than the alternative of telegraphed singular strikes, but if your opponent is in a solid defensive shell it's likely not in your best interest to fire off many strikes at a time against a solid defense when you really only need a two or three strike combination to land to end the fight.
From a grappling perspective, it might make a little less sense to conserve energy for a couple of reasons.
If someone is on top of you oftentimes it is going to be deemed that you are losing the round so it seems counter intuitive to stay in what the judges would call a "losing" position.
Simply being underneath a 265-pound human being can be exhausting (I can vouch for this I have training partners that are this size and let me tell you it is quite unpleasant).
That being said the one thing more exhausting than being stuck under a fighter of that size is struggling to get out from underneath a fighter that size and failing.
So for a person Alistair's size oftentimes your best bet is to wait till your opponent makes a mistake and you are absolutely sure that you can escape.
Derrick Lewis does a fantastic job of this if you watch any of his fights where he ends up on the bottom. He conserves as much energy as possible knowing that if he can return to his feet with even a partially full gas tank he can end the fight with a single blow.
This energy conservation, by the way, is what allows a (healthy) Cain Velasquez to be so successful. His gas tank is so much deeper than his gigantic counterparts that he can afford to string together longer, more explosive bursts of energy, and do so throughout the duration of a five or fifteen-minute fight.
The other key element in MMA heavyweight giants ability to fight is the fact that strength and power are the last things to flee an athlete. The reaction time will fade, the speed will go away, but that one shot KO power will be there late into a career.
Mark Hunt is the poster boy for this sentiment. When discussing 99% of the heavyweights in MMA today nobody is going to describe them as relying on their speed. Or that "his reaction time" is the difference maker in a fight. It's generally a skill they possess or the announcer goes with the cliché it'll be his power that decides this one.
Brock Lesnar was a bulldozer when he came into the UFC, is a bulldozer today, and will be a bulldozer when he's 50. His strength and wrestling are what made him fearsome.
Overeem is a gargantuan 265, his power is undeniable, and will be until he decides to retire. The benefit of a heavyweights two main physical attributes being the last two attributes to go also means that they have that much more time to refine technique in their careers (provided they don't suffer too many KO's).
Once a bantamweight loses a step in speed (in most cases early 30's) they fall behind the top of the division at an alarming rate. The game just moves faster than they do. At heavyweight that isn't a problem which is why it's not uncommon to see heavyweights come into their own in their mid 30's.
The heavyweight game definitely has incredibly different elements than the smaller weight classes, it's far slower and less dynamic but that doesn't mean it's impossible to fight at a high level.
MMA heavyweight giants like Alistair Overeem have had very long and successful careers in the fight game and they are still going. With shining prospects like Derrick Lewis and Francis Ngannou quickly climbing up the rankings I wouldn't be surprised if we will see further evolution in how these giants fight sooner rather than later.
James Macferson is a BJJ blue belt, MMA practitioner and a true health enthusiast. He mostly writes for Budomate Magazine and JabCross Blog, but always glad to share his knowledge with MMA community anywhere anytime.
Latest posts by James Macferson (see all)