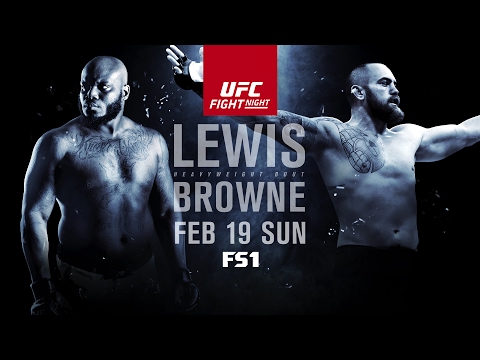 Derrick "The Black Beast" Lewis (#8) vs. Travis "Hapa" Browne (#9)
The main event of UFC Fight Night 105 sees a Heavyweight clash between Derrick Lewis and Travis Browne. Both fighters are looking to stake their claim in this hard-hitting division and potentially break into the top five rankings with a strong performance.
Derrick "The Black Beast" Lewis has been on a tear lately winning his last five fights, four of which have come by way of KO/TKO. "The Black Beast" has become a fan favourite partly due to his 'swing for the fences' fighting style but also his brutally honest, off the cuff remarks in pre- and post-fight interviews. In his last outing, Lewis was able to overcome Russian Heavyweight Shamil Abdurakhimov, at UFC Fight Night 102, with a fourth round TKO stoppage. Before that, he faced another fan favourite, and heavy-hitter, Roy "Big Country" Nelson. In this fight, Lewis displayed varied and improved striking techniques and threw jumping knees at Nelson throughout round one. In the closing stages of a back and forth contest, Lewis landed a haymaker on Nelson that even made UFC President Dana White jump out of his seat. Although this approach to the sport is not great for longevity, it certainly gets you noticed. It seems like under the new WME-IMG ownership, Lewis is being marketed shrewdly and getting a strong push by the company. With a win on Sunday, it will be interesting to see what lies in store next for "The Black Beast."
Travis "Hapa" Browne started his UFC career in scintillating fashion. The proud Hawaiian won four of his first five UFC fights and provided some highlight reel knockouts along the way (his superman punch KO of Stefan Struve at UFC 130 immediately comes to mind). However, Browne somewhat unexpectedly decided to switch training camps in the midst of his success, and has been on a downhill slide ever since. He left the world renowned Jackson Wink camp in Albuquerque and joined Edmond Tarverdyan and Ronda Rousey at Glendale Fighting Club. This was highly publicized and heavily scrutinized as Tarverdyan's heavy boxing orientated approach to training was seen by many as unsuited to MMA training. "Hapa" started to take a much more conservative approach to his fights and his performances declined at an alarming rate. Since April 2014, Browne has fought a total of six times, winning two and losing four and realizes now that he needs to make a change. Coming into this fight Browne has split his camps and will be looking to return to his former success-building ways.
Both of these combatants have shown signs of fatigue in the latter rounds of fights so I am hoping this does not go the distance. After a less than spectacular UFC 208 card, the company is in dire need of a barn burner that ends in spectacular style and may well get that with this main event. If Lewis can start fast, similar to how he did against Nelson, he stands a better chance of winning in my opinion. "The Black Beast" is a big heavyweight and has to cut weight to make the 265lb weight limit. This means he tires easily but, on the plus side, he also possesses some serious power (as evidenced in his fight with Gabriel Gonzaga, where he won the fight via brutal round one KO). Browne has looked a little hesitant of late but hopefully splitting training camps may eradicate this aspect from his game. If he can use his fantastic Dominick Cruz-esque footwork and reintroduce some kicks back into his repertoire he could catch Lewis who has been susceptible to this style in the past (second fight with Shawn Jordan). If Travis can survive an early onslaught from Derrick in round one and use his athleticism to make the big man miss, I can see Browne wearing down his opponent to clinch a much needed victory.
My Pick – Travis Browne (Round 3, TKO)
UFC Fight Night 105 goes down this Sunday from the Scotiabank Centre in Halifax, Nova Scotia, Canada.
Latest posts by Daniel Clemenson (see all)