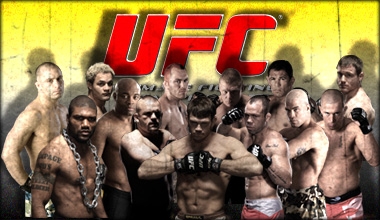 A conversational favorite amongst fans of mixed martial arts is favorite, or least favorite, fighters, and why. The reasons people like or dislike any fighter falls somewhere on a continuum of "just because" to "taking it personal". Whereever your opinion falls, having one is a seminole step for you to take the initiative to watch even more fights, get to know who more of the fighters are, and you will soon recognize how much more fun you're having by continually categorizing fighters along your own personal continuum.
On a recent episode of MMA Junkie Radio, a caller called in to share his, self proclaimed, "perverse pleasure" in seeing Alistair "The Reem" Overeem get knocked out. When the host, "Gorgeous" George Garcia, and cohost, "The Goz" Brian Garcia, asked him why, he said, "Maybe it's his goofy hair do or goofy smile".
This sparked an interest in the host and cohost, and the continuum for disliking fighters, though the same continuum works for liking fighters too, was laid out:
"Gorgeous" George said, "It's interesting you bring that up. There's a few people I wanna see get lit up, but the reason is because they either treated me wrong, or maybe they kicked someone's ass who I'm close with or I'm a fan of, so at least I can say there's some reasoning. The caller just woke up one day and hated "The Reem", and I don't think you're alone in that."
"The Goz" followed up with, "I have guys I don't like because I think their names are stupid, remember, Delpha O'Neal. His name was Delpha, and I hated him. Every time he got burned, I laughed my ass off."
From the silly to the more reasonable, there are so many fighters to comb through and decide where you'd place them on your preference continuum. It's fun to know who the fighters are on a given card, to envision how the fight may go or to not have the ability to make a prediction because it's too close to call, and a fan's knowledge of the sport can only grow with more exposure to these gifted MMA athletes.
Much like the catchy song "Beans, Beans, the Musical Fruit", with the basic premise being, the more you eat, the better you feel, mixed martial artists can easily grow on, or gnaw at, fans by tuning in to as many MMA events as possible. If you can't afford the PPV, there are fights being broadcast on local channels or cable. The more fighting you see, the more fighters you'll like, so watch MMA on pay-per-view through Spike.
By day, I'm an elementary school teacher. By night, an MMA enthusiast bringing those closer to the fence another perspective.
Latest posts by Dave Madden (see all)