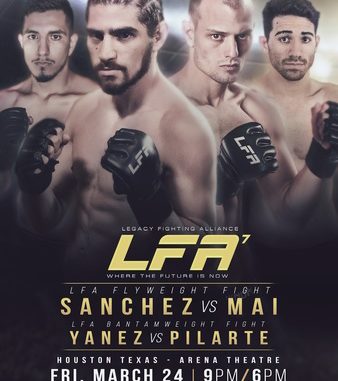 No UFC to bet on this weekend? No problem! LFA and Invicta FC both have shows this weekend. LFA 7 will air Friday at 9pm ET on AXS TV Fights and there are odds up for the main and co-main event. Invicta FC has a fight card Saturday night at 8pm ET on UFC Fight Pass and there are some odds up for a few fights.
LFA 7 on AXS TV Fights
The main event is a bout between Klayton "The Python" Mai(8-2) and Roberto "LittleFury" Sanchez(5-0). The co-main event is a fight between Domingo "Anointed" Pilarte(6-1) and Adrian Yanez(5-1). The fights will air live on AXS TV Fights from Houston, TX at 9pm ET.
Invicta FC 22 on UFC Fight Pass
The main event features a rematch between the champ Tonya Evinger(18-6) and Yana Kunitskaya(9-2). The other fights with odds available are Ayaka Hamasaki(14-1) vs Livia Renata Souza(9-1), DeAnna Bennett(8-2) vs Jodie Esquibel(5-2), and Ashley Cummins(4-3) vs Amber Brown(6-3).  These fights will air live on UFC Fight Pass from Kansas City, MO at 8pm ET.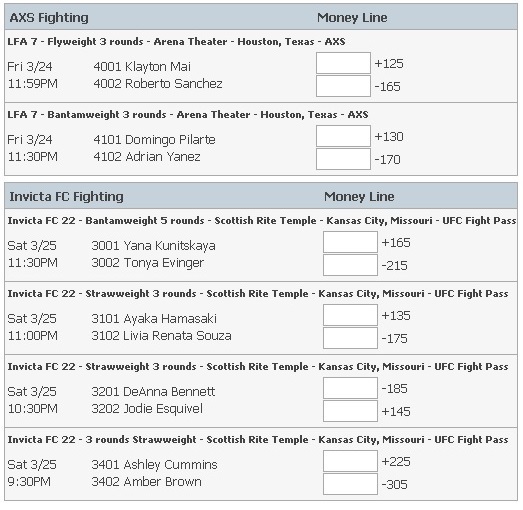 These odds are available at 5Dimes.eu
Owner of evolvedMMA.com. I am a Certified Personal Trainer who trains Mixed Martial Arts. I review any and everything. I sometimes bet on fights!
Latest posts by Travis Williams (see all)