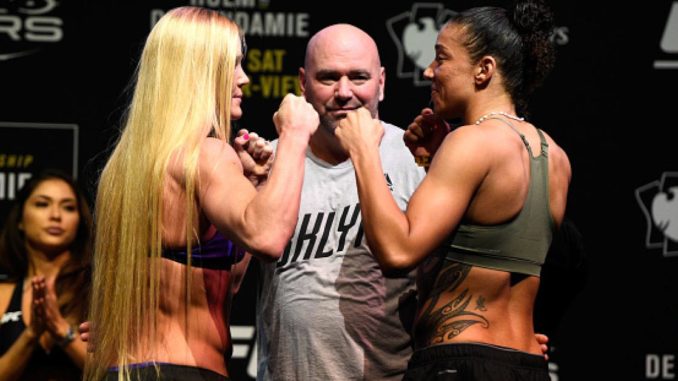 A look into some of the talking points from UFC 208:
UFC 208 will probably go down as one of the worst received pay per views in company history. It was a night of spectacularly dull fights, controversial decisions and strange performances from referees, judges and fighters alike.
In the weeks leading up to UFC 208, many panned the fight card. Odd and one-sided match ups, last minute fight announcements and a main event crowning a new champion in a weight class that had yet to be established are all reasons why this card was not well received. However, sometimes the events you least expect can surprise you (UFC Fight Night 45 springs to mind). This was unfortunately not the case.
The much maligned card was made even worse the day of when "Uncle Creepy" Ian McCall was pulled from his fight citing a gastrointestinal issue. This was the second time in four months McCall had fallen ill just before a fight (he was also pulled from UFC Fight Night 99 after becoming sick due to the effects of weight cutting). In total, McCall has been scheduled to fight five times since January 2015 and all five have had to be cancelled. His opponent at UFC 208, Jarred Brooks, was making his promotional debut and was looking to make a bold first impression. However, he will have to put this on hold for the time being. As for McCall, perhaps he should consider retiring or moving up a weight class as his ageing body does not seem to respond well to an extreme weight cut anymore.
On the night, it seemed many fighters had lost their killer instinct. Out of the ten fights that did take place at UFC 208, nine went the distance and only one ended by way of stoppage. This was courtesy of Ronaldo "Jacare" Souza, who unsurprisingly submitted Tim "The Barbarian" Boetsch in round one (as foreseen in my pre-fight predictions). With this win, Jacare should be next in line to fight for the Middleweight title. As for Boetsch, he made no secret of the fact this was the last fight on his current UFC contract and it will be interesting to see if he re-signs with the UFC or joins the Bellator roster. This fight was seen as one of the biggest mismatches on the card, and really does nothing for Jacare in terms of rankings but, as mentioned above, almost certainly guarantees him the next title shot.
The co-main event of the evening saw Anderson "The Spider" Silva paired against Derek Brunson. This fight was only made three weeks before the event took place and Brunson stated that the short notice was not ideal when preparing for the widely considered G.O.A.T (Greatest OF All Time) in MMA. This became abundantly clear during the fight as Brunson looked uncharacteristically gun-shy and surprisingly lacking in aggression. As for Silva, he followed a predictive pattern starting slow and waiting for his opponent to over-commit before capitalising on their mistakes with counter-punches. Unfortunately, it appeared both fighters were taking this approach in the first two minutes of the fight with the only strike thrown being a half-hearted leg kick by Brunson. As the contest unfolded it became clear that Silva was not the same fighter he once was. He looked slow and lethargic and only demonstrated brief flashes of brilliance that appeared more for show than to cause actual damage. Derek Brunson on the other hand, looked tentative and non-committal and appeared at times to be in awe of his opponent. He seemingly forgot about his strong wrestling skills (which is usually Silva's Kryptonite), and would often telegraph when shooting for a takedown attempt. In the third and final round, Brunson was able to successfully take the former Middleweight champion down and hold him there to see the fight out. Many thought this strong third round performance guaranteed Brunson the win. However, when the decision came in, all judges controversially scored it in favour of Anderson "The Spider" Silva – who picked up his first "official" win inside the octagon in nearly five years. Dana White commented after the fight that he had it "one and one going into the third" and "gave Brunson round three." He did however go on to say that you "should never leave it in the hands of the judges," and perhaps Brunson can only blame himself for lacking that killer instinct he had demonstrated in past bouts.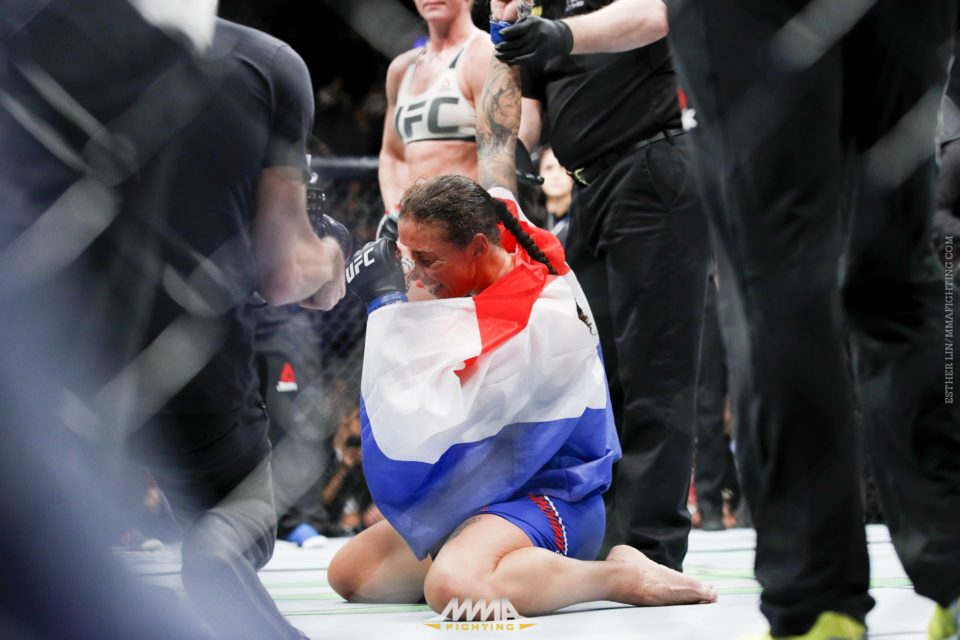 The main event saw former UFC women's Bantamweight champ, Holly Holm, pitted against Holland's Germaine de Randamie for the inaugural UFC women's Featherweight title. Many saw this as a strange choice for a main event as the featherweight division for women was yet to be properly established in the UFC. The only renowned female featherweight fighter, Cris Cyborg, is currently in limbo having been suspended by USADA for a potential doping violation. Cyborg is seen by many as the unofficial UFC featherweight champion and is the current INVICTA Featherweight Champion but for some reason has yet to fight at 145lbs in the UFC. Although the main event wasn't an instant classic, it will be remembered for two things (other than being the first ever women's featherweight fight in the UFC). This was de Randamie hitting Holm after the bell (not once but twice) and the questionable refereeing that was displayed throughout the bout. The illegal strikes came at the end of the second and third rounds and clearly hurt Holm badly. After the second incident most referees would have docked one point. However, this referee declined to do so and Holly was visibly shaken and upset by this. At the end of a not so entertaining contest, it was de Randamie who was declared the new UFC Featherweight champion amidst a chorus of boos. This is now Holly Holm's third defeat in a row – which usually guarantees you your pink slip in the UFC. However, I think she still has some potential and is definitely a big draw, so a return to the Bantamweight division is more likely. Germaine de Randamie now has the unfortunate task of defending her belt against the seemingly unstoppable Cris Cyborg. This may have to wait though as de Randamie hinted at a pre-existing hand injury that will now require surgery in her post-fight interview with Joe Rogan. Either way this typified a rather strange and forgettable night for the UFC.
From the fights that went to decision, not all were boring. Honourable mentions go to Jim Miller and Dustin Poirier who went to war and although Poirier left the winner (albeit one judge scored the fight a draw) both were rewarded for their efforts and earned a $50,000 performance of the night bonus. Another highlight of the evening was, as mentioned before, number three ranked middleweight Jacare Souza's much anticipated demolition of number 13 ranked Tim Boetsch. However, for a night that was supposed to be an historic one, UFC 208 will most likely be remembered for all the wrong reasons. Here's hoping the next pay per view exceeds the hardcore fans expectations and gets the UFC back on the right track.
Latest posts by Daniel Clemenson (see all)