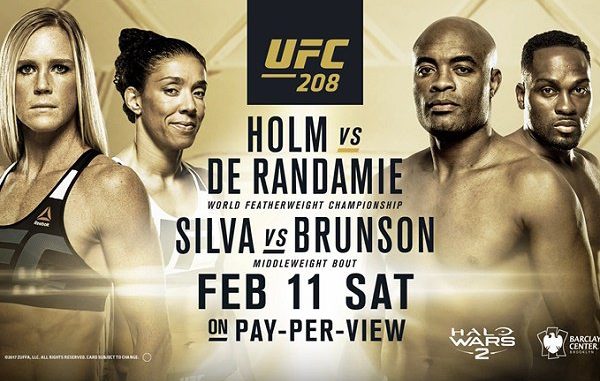 UFC 208
Holm vs. de Randamie (Main Event) –
An historic fight takes place on February 11th in the main event of UFC 208 held at the Barclays Center in Brooklyn. The fight will see "The Preacher's Daughter" Holly Holm (former UFC Bantamweight Champion) challenge Dutch kick boxer, Germaine de Randamie, for the inaugural UFC women's Featherweight Championship. On paper this looks to be an exciting and promising stand-up fight between two former kickboxing champions.
Since defeating Ronda Rousey in spectacular fashion at UFC 193 and becoming the UFC women's Bantamweight Champion in the process, things have not gone according to plan for Holm. She dropped the title to Meisha Tate at UFC 196 losing in dramatic fashion when she was choked unconscious in the final round of a fight she was arguably winning. She then accepted a dangerous fight with the talented Valentina Shevchenko at UFC on Fox 20. When this match-up was made, Holm was ranked number one in the world in the women's Bantamweight division and Shevchenko number nine. Many thought this would be a tune up fight for the "Preacher's Daughter" and get her back on track to reclaiming the gold. However, things did not go to plan for Holly and she lost a Unanimous Decision to the underrated Shevchenko who was able to use her mixed array of MMA skills to baffle and confuse the former champion. Holm needs to make a bold statement in this new weight class and put the memories of a terrible 2016 behind her.
Germaine de Randamie has only lost once in the UFC since joining the promotion in 2013. This was at the hands (and elbows) of current Bantamweight Champion, Amanda Nunes at UFC: Fight for the Troops 3. Since then de Randamie has put on some impressive performances and finished her last two opponents with strikes. However, these victories were against what some would consider 'lesser fighters' (neither of whom had a UFC win to their name). Germaine has faced nowhere near the competition that Holm has in the UFC but as we all know, anything can happen in this game. The Dutch native does boast an impressive undefeated professional kickboxing record to her name and could make things difficult for Holm by implementing some of these attributes. If de Randamie can be patient and allow Holm (who is a renowned counter-puncher) to come towards her, she may stand a chance of winning this fight by capitalising on openings.
Personally I believe this is a good stylistic match up for Holm, who won't have to worry about de Randamie taking her down and trying to submit her. If Holm can put her boxing and kickboxing skills together and employ ring generalship inside the cage, she should win this fight and become the first ever female UFC Featherweight Champion. In doing so, she will also join an elite club of UFC fighters who have held belts in two different weight classes.
My Pick – Holly Holm by Unanimous Decision.
Anderson Silva vs. Derek Brunson (UFC 208 Co-Main) –
Amazingly, the once seemingly indestructible Silva, hasn't won a fight since 2012. The Spider has fought five times since, losing four with one no contest. During this time he also served a suspension for failing a drugs test, was pulled from a fight to have surgery on gall stones and missed a year rehabbing a broken leg. It has been a tumultuous time of late for the former UFC Middleweight Champion who is in desperate need of a win inside the octagon and will be looking to make an impact at UFC 208.
From January 2015 – September 2016 Derek Brunson went on a five fight win streak in which he notched up four straight first round KO/TKO victories. This run ended abruptly when he was stopped by the young Australian, Robert Whittaker (who was fighting on home turf). Brunson is usually a fast starter and likes to overwhelm his opponents with a combination of technical striking and brawling. This technique worked in his favour against gun-shy Uriah Hall and unsuspecting Sam Alvey but I believe Silva is too slick and experienced to succumb to this tactic and will lure Brunson in before finishing him.
My Pick – Anderson Silva by TKO (Round 2).
Ronaldo Souza vs. Tim Boetsch –
On paper, this should be a fairly one sided contest. Ronaldo "Jacare" Souza has only been defeated once in the UFC and that was to Middleweight contender, Yoel Romero (albeit controversially). His opponent, Tim "The Barbarian" Boetsch, has had mixed success inside the octagon and has won three of his last seven fights.
With a win on Saturday night, Jacare is destined to be next in line to challenge for the Middleweight title. The Brazilian possesses world class BJJ (Brazilian Jiu-Jitsu) and has used this to submit many high-level fighters such as Gegard Mousasi, Alexander Shlemenko and former UFC Welterweight Champion, Robbie Lawler.
Tim "The Barbarian" Boetsch has fought at both Middleweight and Light Heavyweight and has a UFC record of 11-9 with an overall professional MMA record of 20-10. "The Barbarian" is coming off two straight KO/TKO victories and will be looking to make things awkward for Souza come fight night.
I believe this will play out similarly to the Rockhold vs. Boetsch fight. I can see Jacare securing an early takedown and using his slick submission skills to pull off an impressive win.
My Pick – Ronaldo "Jacare" Souza by Submission (Round 1).
Latest posts by Daniel Clemenson (see all)