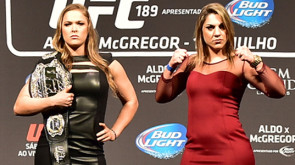 UFC 189's World Media Tour was a hit the moment it was mentioned. The featherweight title, taking place on July 11, 2015, lies many moons ahead, but the hype train definitely left the station when both "The Notorious" Connor McGregor (17-2-0) and Jose Aldo Jr. (25-1-0) took their places in front of microphones to inform the media and fans how they foresee the future of the belt.
With all the promotion of UFC 189, it can be easy to overlook the immensity of what occurred at the press conference between "Rowdy" Ronda Rousey (11-0-0) and Bethe "Pitbull" Correia (9-0-0).
After Rousey has proven in all of her UFC title defenses, the last two taking her a combined thirty seconds, that she dominates her opponent in a manner that is a notch or two above humanly possible. By all accounts, she appears human, though her mystique is further highlighted by her superb athleticism, and she modeled her capacity to continue to rise above the plateau of others who, Rousey causes, to appear average, at best. During the press conference, Rousey's words could be marked as quotes for either self-improvement symposiums or anti-bullying campaigns.
The pound-for-pound, greatest woman athlete of our time was questioned by the media, again, about whether or not her fights have to coordinate with her acting gigs. She brushed all the glitz and glam of stardom aside, placing the fact that she's a fighter first and foremost, by saying,
"I don't move fights around for movies; I move movies around for fights."
Rousey understands that she wouldn't be where she was with the prominence, acting, media appearances, sponsors, and anything else asked of her unless she was the dominating champion we have all come to expect with each entrance into the Octagon. Her desire to stay at the top is what fuels her to push herself harder. Nothing can break Rousey, at least nothing any woman can do to her.
Ronda Rousey has proven unbreakable, and at the press conference, she exemplified how to prove a similar emotional strength. Correira displayed her vindictive, spiteful behavioral trait of cattiness in her response to a reporter's question. A reporter asked her what she was preparing for, and Correira's answer cut like razors, intent on bleeding out any of Rousey's strength,
"I want to give Ronda a gift, something she's never done in her life, which is to know a heavy punch in the face."
Had her response stopped there, she would have been saying things that fighters have been saying to one another at press conferences, jabs to get under the other's skin, since the beginning of time, though she continued,
"I already told her that I'm going to give her as a gift, a simply surgery, to remove that wart from her face. It's a terrible illness, so I'm going to give her a gift, with a lot of love, and it's going to be my first punch."
Rousey hadn't heard this response because she was wearing the translation headphones. Well, passionate, Brazilian bravado couldn't leave well enough alone, so a reporter repeated the comment to Rousey, as a means of getting her reaction to such villainous words; the reporter, also a woman, appeared catty in her own nature by repeating the words of her title contending countrywoman with a laugh, a laugh meant to say, "You heard what Correia just said, right?"
The response Rousey gave should be rewound, cut, and advertised as an anti-bullying campaign, a means to demonstrate that being yourself is good enough. After removing her headphones, she smiles, picks up the microphone, chuckles to the audience members who are ready for retaliation; she models what should be said at times like these, for those who are losing the self-esteem battle,
"Listen, it's a beauty mark. Cindy Crawford had one too, and I quite appreciate it. I like it; I could get rid of it if I wanted to, but I think it's unique. I could start going on about her physical appearance, but I'm just not going there, okay? Let's not play the pretty awards between me and her. Let's leave it there. Momma looks cute, and that's it."
Clearly, Correira is glue and Rousey is rubber. UFC 190 isn't until August 1, 2015, yet the excitement is already brewing for another spectacular display of ability and technique. No words can be taken into the Octagon that are of any use, except screaming "Uncle" to keep your arm from being removed from its torso.
By day, I'm an elementary school teacher. By night, an MMA enthusiast bringing those closer to the fence another perspective.
Latest posts by Dave Madden (see all)