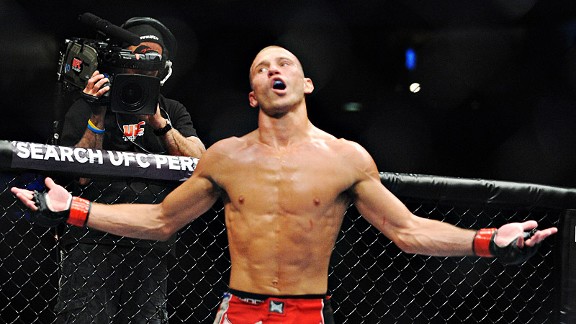 Taking the reigns at UFC 185's Q and A session, a time for a prominent fighter to interact with the fans, was Donald "Cowboy" Cerrone, who is currently ranked number 3 in the lightweight division. Riding his seven fight win streak to the stage, Cerrone provided an engaging and insightful testimony into his life and perspective on being a fighter in the UFC; he demonstrated a realness about himself while also letting it be known that he is more than down to fight anyone at anytime. How does anyone not appreciate and find themselves tuning in to catch the fights of a fighter who you know will bring it to whoever is his competition.
Best known for recently wrapping up a back to back pair of fights in a two-week time span, Cerrone garnered a great deal of attention for attempting such a grueling feat. Not only did he get to erase the 0 in Miles "Fury" Jury's loss column, but he then, two weeks later, followed-up his Jury performance with a scrap against a man who had beaten him two times prior, Benson "Smooth" Henderson. It turned out that Cerrone had broken his foot during the Jury fight, so he took the number 3 slot away from Henderson with only one wheel. It's difficult for any sports fan, let alone an MMA fan, to not admire the toughness put on display by fighting through such an injury. "My injuries are a long way from my heart", Cerrone responded when a fan questioned about the difficulty of fighting within such a short window of time.
Cerrone would be the first to try and admit that he fights for the money. He was asked what his motivation is, and he rattled off, "Money, money, money." Who isn't drawn to a place of greater financial success in their lives? It is safe to assume the majority of people want more for themselves, especially money. With all the fight bonuses, win bonuses, and sponsers, I would assume it's safe to say that Cerrone isn't much strapped for cash. I wonder if Cerrone is a bit apprehensive to admit his love of competition and desire for greatness; maybe he simply lets his actions speak all his competitive words. "The Notorious" Connor McGregor is also one who openly expresses his love of money, but in his next breath he'll lay out his plan for greatness.
He may gloss over the idea of being a champion, but it seems Cerrone has enough of the bug to strive toward the belt because he'd like to run through his fight with Anthony "Showtime"   Pettis another time. During the Q and A, Cerrone shared his desire to get a rematch with Pettis by saying, "I want Pettis to win, and I want to rematch Pettis in Colorado, my home."
Of course, both Cerrone and Pettis would both have to win, or maybe lose, for this rematch to become a reality. It seems Cerrone doesn't only want to avenge a loss; he wants the belt, the same belt that carries with it the understanding of being the best in the world for your weight class. Money comes with such a title, but titles are not achieved with money alone. Titles are earned by working hard to be the best you can be, and Cerrone shows time and time again how he wants such a title. In order to get the title, Cerrone needs to continue on his road to destruction by continuing to dismantle all those who step inside the Octagon beside him.
By day, I'm an elementary school teacher. By night, an MMA enthusiast bringing those closer to the fence another perspective.
Latest posts by Dave Madden (see all)