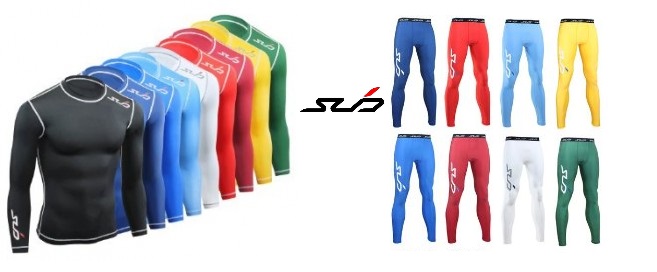 I am an advocate of finding great training gear for great prices. Not everyone can afford to buy the full line of gear from top name brands. If you spend time trying to spend a little less, you may just end up with more. The average prices I see on rash guards and compression gear is typically very costly averaging about $50 per piece. If you would like a couple rash guards, like short and long sleeves and some spats, it could cost you a couple hundred bucks. However if you shop around and get lesser known brands, you could get a set of compression gear for every day of the week at the same price. After experimenting with a few lower cost options for compression gear I came across Sub Sports. The company makes a large variety of compression gear and rash guard protection. They make long sleeve, short sleeve, and no sleeve compression shirts in a variety of colors. They also offer spats, compression shorts, and even compression underwear. Most of the gear by Sub Sports is relatively low cost but the quality is very good.
Sub Sports Rash Guard Shirt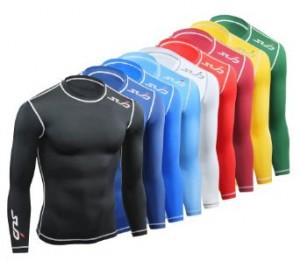 Finding a rash guard for under $20 can be difficult, however Sub Sports has a few different styles and many different colors for under $20. Sub Sports compression gear is 82% nylon, which is the material a lot of people prefer. I like the length of the rash guard, including the length of the sleeves. I am rather tall and skinny so finding gear that fits great is a challenge sometimes. However I use a medium rash guard and have no issues with it being too loose or too short.
This rash guard comes in about 5 adult sizes and there are several different styles of Sub Sports Compression shirts. You can find short sleeve and no sleeve compression shirts if you prefer. They also offer thermal base compression gear for winter training. In addition to different styles, Sub Sports offers several different colors for their compression gear. You can get a matching set of compression gear in your favorite color or color combinations.
Comfort:

Fit:

Design:

Value:

Sub Sports Spats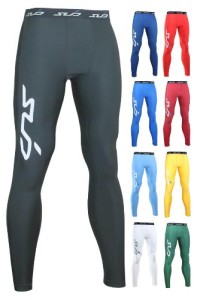 Compression leggings can be a great training tool for mixed martial arts. One of the reasons for compression gear is to improve blood flow for muscular power and endurance. Also some people like to be fully covered with compression gear under their BJJ Gi to prevent scratches and rashes of course. I prefer spats and long sleeve rash guards to keep my elbows and knees covered. If you grapple a lot, you might have realized some mats are rougher and less forgiving than others. The first place I ever grappled didn't have a padded mat. They threw a blue tarp over a wood floor and it was a nightmare. After ripping up the skin on your knees and elbows a few times you look for a solution. I don't roll on a sandpaper-like tarp anymore, but I can still appreciate the benefits of compression gear.
Another reason I like wearing spats is because it can help keep your cup in place. An added layer over your cup shorts can provide additional stability for your protective cup. Some of the lower cost protective cups don't do a great job staying in place on their own. Compression gear is great for No Gi grappling, but PLEASE wear shorts over your compression gear. Don't be that guy who just wears spats with your junk on display. Its a little different if you have a cup on, but please just put some shorts on over it.
Comfort:

Fit:

Design:

Value:

Owner of evolvedMMA.com. I am a Certified Personal Trainer who trains Mixed Martial Arts. I review any and everything. I sometimes bet on fights!
Latest posts by Travis Williams (see all)