International Fight Week is just around the corner and the whole week is filled with stacked fight cards. All these awesome fight cards will lead up to one of the biggest fight cards ever in UFC 200. You know there are stacked fight cards when you have to tune in on a Thursday to catch a lightweight title fight. UFC Fight Night 90 will take place in Las Vegas on July 7th and can be seen in full on UFC Fight Pass. The main event will feature a lightweight title fight between Rafael Dos Anjos and Eddie Alvarez which many people have been eager to see. We will also see Roy "Big Country" Nelson take on Derrick "The Black Beast" Lewis in a heavyweight bout. Another bout I am personally excited to see is Alan Jouban take on undefeated Belal Muhammad at 170 lbs. We also get to see "Irish" Joe Duffy return to the octagon after a disappointing performance in his first UFC outing. Joe Duffy will be fighting Mitch Clarke in a lightweight bout. Another exciting welterweight fight will include Mike "Quicksand" Pyle who will be fighting Alberto "Soldier of God" Mina. Click to reserve your spot for UFC Fight Night 90 DraftKings games.
UFC Fight Night 90 DraftKings: Dos Anjos vs Alvarez

Eddie Alvarez($8,600)
I often find myself winning with lineups that exclude 5 round fights and I believe that will be the case here. Both fighters have a pretty good shot at winning, and many people are expecting a war to a decision. I feel Alvarez is an excellent low cost option that should score a lot of fantasy points. I believe this fight will go the distance and Alvarez should be a good pick for points win or lose.
Derrick Lewis($9,600) vs Roy Nelson($9,800)
The Black Beast has been tearing through some great fighters lately with all KO/TKO victories. Roy Nelson is an excellent fighter but has faced a couple tough decisions but defeated Jared Rosholt earlier this year. I believe the story of this fight is going to be the 7 inch reach advantage Derrick Lewis has. I believe this will be a quick fight ending with one fighter going out cold but it is really hard to call. Each fighter has a similar salary cost for DraftKings lineups so you can almost go either way. I believe The Black Beast gets his hand raised at the end of this one but I am also running multiple lineups.
Alan Jouban($10,000)
Alan "Brahma" Jouban is one of the more entertaining welterweights to watch and should put on a show against the undefeated Belal Muhammad. Jouban is 4-2 in the UFC while Belal "Remember The Name" Muhammad will be making his debut. Muhammad has a 1 inch reach advantage and Jouban is 2 inches taller. I believe Jouban takes the victory by decision or late TKO stoppage and should be an excellent pick for your UFC Fight Night 90 DraftKings lineup.
Alberto Mina($9,500)
Alberto "Soldier of God" Mina will be taking on Mike "Quicksand" Pyle who is 40 years old. Mina who is 6 years younger has a 3 inch reach advantage. Alberto Mina is 12 – 0 in his professional career including 2 wins in the UFC. I believe Mina has what it takes to finish Pyle and puts together the win. However each fighter has a similar salary so you can go either way on your DraftKings lineup.
Mehdi Baghdad($8,900)
John "The Bull" Makdessi is coming off 2 losses in his UFC career and needs to secure a win. However I believe he has a very tough opponent in front of him in the form of "The Sultan" Mehdi Baghdad has a 7 inch reach advantage and is 5 inches taller. I believe the height and reach will give Baghdad enough of an edge to take the victory. Baghdad lost his UFC debut and also needs to secure a victory if he wants to stay under the UFC banner.
Solid Underdog Picks
Mitch Clarke($8,300)
Russel Doane($9,000)
Jerrod Sanders($8,800)
Alvaro Herrera($8,500)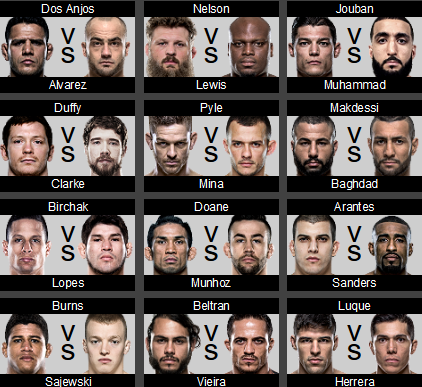 Owner of evolvedMMA.com. I am a Certified Personal Trainer who trains Mixed Martial Arts. I review any and everything. I sometimes bet on fights!
Latest posts by Travis Williams (see all)