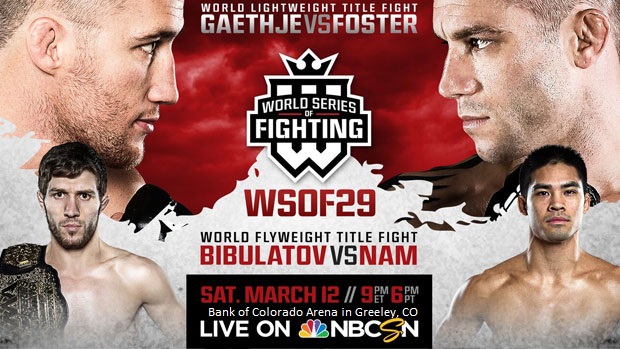 I am always excited to see one of the best lightweights in the world fight, Justin Gaethje(15-0). He will be looking to defend his title against #1 contender Brian foster(25-8) at WSOF 29 in Greeley, Colorado. Justin Gaethje is undefeated and has held the title since WSOF 8 which was 2 years ago. Gaethje will be looking to earn his 16th pro victory against Foster. Gaethje has a number of impressive KO/TKO victories and hopefully we see some of that power at WSOF 29. Justin Gaethje trains out of Grudge Training Center in Arvada, CO with some of the best talent in the world. I am always excited to see Colorado fighters represent, especially in Colorado. The co-main event will feature a bout between Magomed "Gladiator" Bibulatov(14-8) and Tyson Nam(10-0) for the Flyweight title. I am hoping we will see more fighters out of Colorado on the card. The fights will take place March 12th at the Bank of Colorado Arena in Greeley, Colorado and will be live on NBCSN at 9pm ET.
Fight card will be updated as fights are announced.
WSOF 29 Fight Card
Main event – Lightweight Title
Justin Gaethje vs Brian Foster
Co-main event- Flyweight Title
Magomed Bibulitov vs Tyson Nam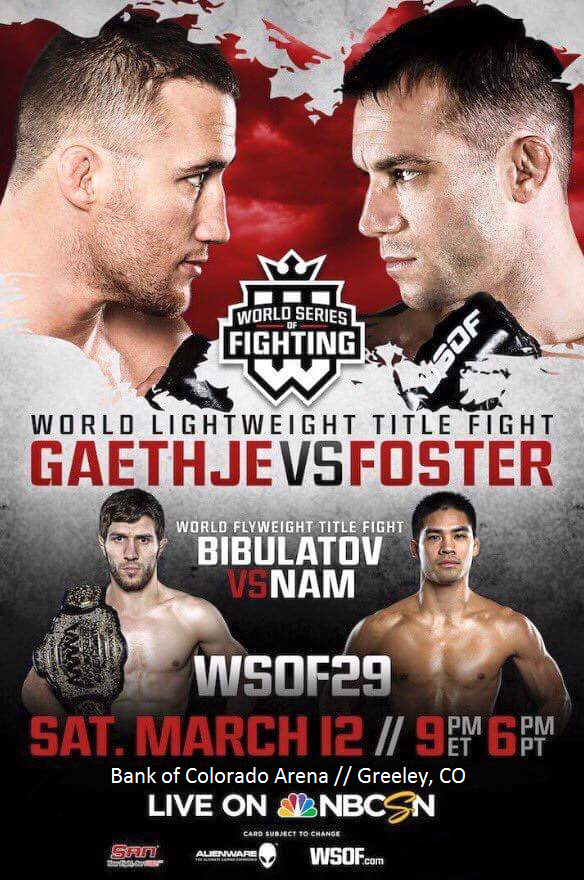 Owner of evolvedMMA.com. I am a Certified Personal Trainer who trains Mixed Martial Arts. I review any and everything. I sometimes bet on fights!
Latest posts by Travis Williams (see all)