I was recently contacted by MRX to review some MMA products. MRX makes a variety of fitness gear suitable for MMA, Muay Thai, Boxing, and more. The company is based out of New York and offers handmade gear from Asia to assist with all types of training. One of the pieces they sent me to review is their Hydra-MX86 MMA Shorts. I have used a variety of MMA shorts over the years and I am always excited to try new ones out. After looking at their sales page it appears they have many different colors and designs available for MMA gear. If you are looking for matching gear in a variety of colors and designs, you should be able to find something that works. MRX makes a lot of low cost items so you can get a variety of training gear without breaking the bank.
MRX Hydra-MX86 MMA Shorts Review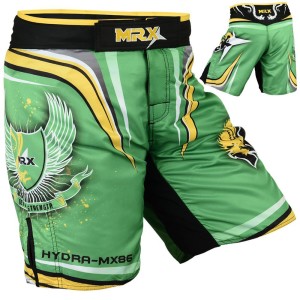 I really like the look of the shorts, a lot of MRX gear has very cool designs. I really like that the design uses sublimation printing which means it wont peel or wear off like regular printing. The shorts are made with 100% microfiber fabric material and are very lightweight. These shorts stretch well and will not impede on your movement. There is a large stretch panel on the underside which really helps for kicks and split stretches. They run closer to mid thigh and also have slits on the side for more flexibility. Like many MMA shorts they also use T3 stitching to increase durability.
Comfort:

Fit:

Design:

Value:

These shorts are thinner than most of the MMA shorts I have used. MRX Hydra-MX86 shorts come in about 5 sizes(S,M,L,XL,XXL). I typically wear a 32″ waist so I requested the Medium which is for a 31-32″ waist. When I first put the shorts on, I thought I might have gotten the wrong size. They come up to about mid thigh and seemed to be a bit wider than a 32″ waist. The shorts offer a "hook/loop" velcro closure system which you will find on many MMA shorts. However the closure system MRX offers is not very good at all. I tried to adjust the waist to make it slightly smaller, however the adjustment system doesn't allow for a lot of adjustment. I found that I had to rely on the internal drawstring to get the shorts to fit well. I didn't like this because it feels like you're supporting the shorts with a thin string instead of a thick waistband. When I grapple I light my shorts to fit nice and snug. I can't really get these shorts to fit snugly without tying the drawstring very tightly which is uncomfortable.
I made sure to use these shorts in a variety of training scenarios to see how they would hold up. These shorts work great for striking, they are very lightweight and flexible. I use these in my Boxing and Muay Thai classes and I have also worn these on days where I do more yoga and stretching. These shorts work for grappling but I prefer something that fits the waist better and is made of thicker material. If you have ever had to grab your own shorts as a defense, you'll know the benefit of thicker material.
I'd say overall I like these shorts for general training and striking. These shorts work well with any of my regular workouts, boxing, and kickboxing. If you are looking for a decent pair of striking shorts, these are not a bad option. You can get these for under $40 which is near the average for cheaper MMA shorts. If you are looking for a different color or design, MRX offers plenty of cool designs for MMA gloves and shorts. You can find all products for sale at MRXProducts.com
Owner of evolvedMMA.com. I am a Certified Personal Trainer who trains Mixed Martial Arts. I review any and everything. I sometimes bet on fights!
Latest posts by Travis Williams (see all)