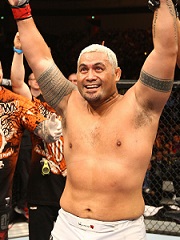 The 39 years old "Super Samoan," Mark Hunt won't have too much time to waste. However, Hunt is suffering an injury to his leg that is preventing him from stepping back into the octagon.
Mark Hunt, the former K1 champion, is being treated for an infected hematoma that caused a giant hole in his leg. Unfortunately the skin graft he has a few weeks ago didn't work out and now, Hunt is seeing a plastic surgeon to try to patch the hole in his leg. Hopefully this time the treatment will work for Hunt.
A quote from Mark Hunt's Facebook page:
Well troops jus wanted u guys to know the skin graph didnt survive,and i think i will be back in hospital next week,its a bummer really cause the hill song confrence is starting next tuesday i hope i dont have to go hospital,but we will see i see plastic surgeon tuesday.didnt realise how bad this is man.anyways troops will keep u guys informed roger roger over and out lol.
The "Super Samoan" was working his way towards a title shot which was promptly ended by Junior Dos Santos. Before losing to Dos Santos, Hunt was on a 4-fight win streak, all Knock-Out victories over Stefan Struve, Cheick Kongo and Chris Tuchscherer.
All we know now is he is seeing a plastic surgeon for treatment, we do not know when he will return to the octagon.
Check out the video of Mark Hunt's leg hole.
Owner of evolvedMMA.com. I am a Certified Personal Trainer who trains Mixed Martial Arts. I review any and everything. I sometimes bet on fights!
Latest posts by Travis Williams (see all)