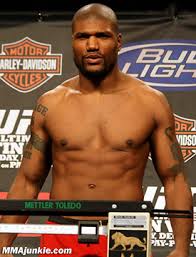 Quinton "Rampage" Jackson, former UFC Light-Heavyweight Champion has recently talked about up to heavyweight and a bout with Roy "Big Country" Nelson is definitely a fight he would enjoy
During an interview with Mmamania.com, Rampage Jackson was asked if he wanted to focus on anything before his debut in Bellator MMA
"Everything. I need to work on everything, man. I need to work on my Muay Thai. I need to work on my wrestling. I need to work on my ground game and even my boxing. That's what I've been doing."
Rampage was asked about a fight with Big Country Nelson to which he responded.
"I would love to fight Roy Nelson. **** him up!"
Rampage just recently signed a long-term contract with Bellator, and Big Country just completed his contract with the UFC so this fight is totally possible and is up in the air.
Owner of evolvedMMA.com. I am a Certified Personal Trainer who trains Mixed Martial Arts. I review any and everything. I sometimes bet on fights!
Latest posts by Travis Williams (see all)