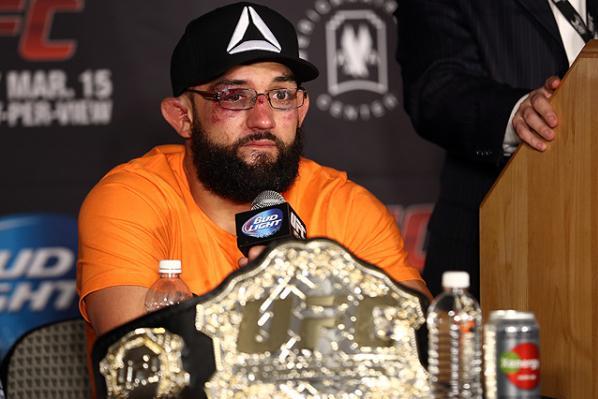 Johny Hendricks has stated that he injured his elbow in training a week and a half before UFC 171. The UFC's new welterweight champion first told of his injury during The MMA Hour on Monday. Hendricks said the injury came back when he threw a hook at Lawler in the first round. Johny Hendricks torn bicep is also affecting him.
"It's my elbow," Hendricks told Ariel Helwani. "It happened actually a week-and-a-half before, and it happened in the first round. Whenever I threw a hook, it just spazzed out. I don't know what happened. I felt my arm pop. We'll see what happens."
After losing to Georges St-Pierre with a controversial decision, Johny  was set to fight for the vacant title after GSP's retirement. Lawler, like Hendricks is a heavy puncher and put on an incredible show during UFC 171. Hendricks was supposed to be the more dominant fighter with his wrestling credentials, but it appeared as Lawler was able to shut down his wrestling for the most part. Lawler stuffed most of the takedowns from Hendricks so the fight remained a slug fest on the feet. Both fighters stood in punching range and traded heavily back and forth.
The fight was even for the majority of it and some say Hendricks looked much more wobbly than the smiling freak Robbie Lawler. However, in the fifth and final round Hendricks was able to score a takedown on Lawler and score some points which may have ultimately decided the fight.
Hendricks blames his inability to take Robbie Lawler down on his injured elbow. While some people say this discredits Lawler's abilities, it may have been the deciding factor.
"It was whenever I tried for takedowns, I could not get it," Hendricks explained, when asked if pain was an issue during the fight.
Hendricks mentioned how his camp even talked about cancelling the fight, which would have been a nightmare a week and a half before the fight.
"We thought about it, but that world championship means a lot more," Hendricks said.
Hendricks will visit the doctor on Monday and he said if everything checks out, he will try to take a little time off and return in either September or October for a title defense. An
During the interview, Hendricks said he was on his way to a doctor to get his elbow checked out. He also tore his bicep. Johny Hendricks torn bicep as well as his elbow are going to be check out. If everything checks out OK, he is hoping to take a little time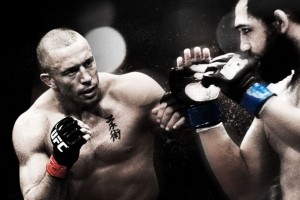 off and return in either September or October for his first title defense. The UFC hasn't named an opponent yet, but we are excited for the reveal. Although GSP has told Johny to wait around for him.
This might be a rematch we will see in the future, however it doesn't seem like GSP is on the UFC's good side right now.
Owner of evolvedMMA.com. I am a Certified Personal Trainer who trains Mixed Martial Arts. I review any and everything. I sometimes bet on fights!
Latest posts by Travis Williams (see all)