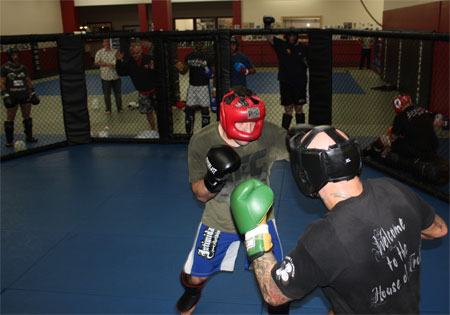 If you're training any type of striking art you should have headgear, especially MMA. Wearing headgear will help you learn how to take shots to the face while keeping you safe. You reduce your chance of getting cut as well as getting knocked out. You also want to make sure you get headgear with good visibility. If your MMA head gear is obstructing your vision you are not going to have a good time sparring. Check out some of these  reviews we've done in order to find the best MMA headgear. A lot of the head pieces are meant for different combat sports so the gear will work for Boxing, Kickboxing, Muay Thai, MMA and more. There are different styles and designs that will provide different levels of comfort and protection. You should research the product a little bit to make sure you get something that suits your needs.
You'll want something that can stay on your head through some heavy striking as well as grappling. Nothing is worse than having to adjust your head piece every time you get hit in the head. You also don't want it to come lose while you are wrestling or grappling with your partner. Another thing to consider is how well the head piece breathes. You don't want to get something that's going to cook your head while you are sparring. We've weeded out all of the equipment we feel isn't good and brought you our best
The Best MMA Headgear for Training
Venum Challenger 2.0 Headgear
This is a great all around piece of training equipment. The Venum Challenger series provided some cool pieces of MMA gear that are great for combat training. I like this piece of head gear due to its light weight feel as well as its breath-ability. This will help keep you cool round after round of getting hit. Its also not too bulky which can cause your head to be an easier target. This lightweight MMA headgear helps your head movement as well as your visibility while sparring. Some pieces can limit your vision, but this one does a good job covering your face without sacrificing vision angles.
This can be bought in the black/white color shown in the image. The headgear is made with a triple dense foam and a synthetic leather for maximum durability. The headgear offers head , cheek, ear, and chin protection and holds on with a flexible double velcro strap.
Comfort:

Fit:

Protection:

Value:

Ringside MMA Head Gear
This Ringside head piece is a great product at a great cost. You can get this piece of gear for around $60 and it is definitely worth it. The head gear offers great protection from strikes and it fits very comfortably. There are cheek protectors and the foam can really take some hits. It is made out of genuine leather and is USA Boxing approved for competition.
This headgear offers a very snug fit with a chin strap to help hold it in place. It comes in black and is guaranteed to last you a good while. I recommend this piece to anyone whether you are a beginner or not.
Comfort:

Fit:

Protection:

Value:

Title Gel MMA Head Gear

We really like the head gear that Title makes. They have been making Boxing gear for years and their products are great for MMA. This head gear has a great fit with the Gel design they use. It is really comfortable and also helps you take punches. This head piece provides excellent protection with its full wrap around design. This this has your whole head covered with an additional bit of protection by the chin.  Also has an elastic top for a tight fit to the head.
You can get the Title Head gear for around $70 which is a pretty great price considering the quality. It's not quite as pricey as some of the big name MMA brands, but it provides you with quality protection. It comes in Red and Black as well as two different sizes. Check this MMA headgear out if you are looking for a comfortable fit.
Comfort:

Fit:

Protection:

Value:

Hayabusa Ikusa Headgear

If you are looking on the higher end of MMA head gear and you truly want the best. Hayabusa makes some of the best gear for MMA, and their head gear is great. The Hayabusa Ikusa is one of our favorites, this head piece provides all around protection covering the cheeks and a great chin strap. This MMA head gear isn't too bulky and fits just great. This one doesn't impede on your peripherals too much and also stays cool on your head. This is some of the best headgear for MMA.
At a lower cost than some of their other items, this Hayabusa headpiece can be purchased for just under $90. If you're looking to get the gear the pros train in, this is it. Hayabusa sponsors man big name MMA fighters and some of the greatest pros.
Comfort:

Fit:

Protection:

Value:

Piranha Gear Leather Head Guard

Piranha makes some great martial arts gears all around. They are a lesser known brand but they makes all sorts of martial arts gear including MMA gear. Piranha always turns out a good product and this head gear is one of the better ones. This one provides great cheek and chin protection and is really durable with its leather design.
This piece of MMA head gear has a very adjustable top so you can get a great fit with a bit of fine tuning. This comes in many different sizes and you can get it for around $50. I would say this is a big step up from the Everlast headgear but its over double the cost. I would say its worth it if you're planning on training a lot.
Comfort:

Fit:

Protection:

Value:

Everlast Everfresh Head Gear
This is a great product at a great price. This Everlast head piece will keep you safe round after round of sparring and keep you fresh with their Everfresh design. This headpiece is designed to breathe so you don't overheat when you are sparring. The head gear is very adjustable and allows you to get a comfortable fit.
If you are looking for cheap MMA head gear, this is your best bet. For around $20 you can get a solid head piece that will keep your head safe. This is perfect for beginners and will help you transition into taking shots to the face.
Comfort:

Fit:

Protection:

Value:

Training Safely
There are many brands that make great MMA gear and it is important to read reviews and find out what people are saying about the products. Talk to people in your gym, the people you spar with. If somebody has the gear you want, see if they will let you test it out. While you might not want to test someones MMA mouthguard you could borrow a head piece or some gloves and test them out. If you are comfortable with a brand, you might like their products because they always keep a similarity. However it is good to test out new things, you might find something great.
It is important to wear head gear for safety but ultimately you want to improve your MMA head movement and your ability to avoid strikes. Headgear can help you transition into taking strikes to the head, punches or kicks. I would recommend training for a very long time with head gear before you start sparring without it. Get comfortable getting hit in the face as well as practice your head movement.
Owner of evolvedMMA.com. I am a Certified Personal Trainer who trains Mixed Martial Arts. I review any and everything. I sometimes bet on fights!
Latest posts by Travis Williams (see all)