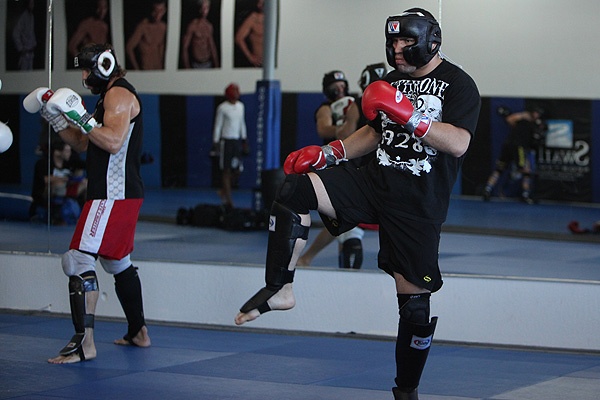 One of the more obscure piece of training gear for MMA is the knee pad. Sometimes you will see a fighter wearing a brace to help them get over an injury. However sometimes the best MMA knee pads can be used proactively instead of reacting to an injury. We wrap our wrists before putting in a few rounds on the bag, why not other joints. Things like wrestling, takedowns, and throws can be hard on a persons knees. Knee pads can help keep you solid while training and help to prevent unnecessary injury.
Best MMA Knee Pads
Venum Kontact Lycra Knee Pads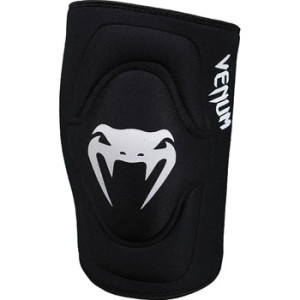 These MMA knee pads by Venum are a great supportive piece of MMA training. These knee pads are meant to be tighter fitting and provide stability to the knee. If you are nursing an injury or need added protection for your knees, these are a great options.
These MMA knee pads provide excellent shock absorption and the Lycra is injected with high density foam. You can get this excellent piece by Venum for around a great price. These are a great training tool to keep in your gym bag for emergencies. If you're looking for a great all around option, these might be the best MMA knee pads for you.
Comfort:

Fit:

Protection:

Value:

ASICS Gel Wrestling Knee Pad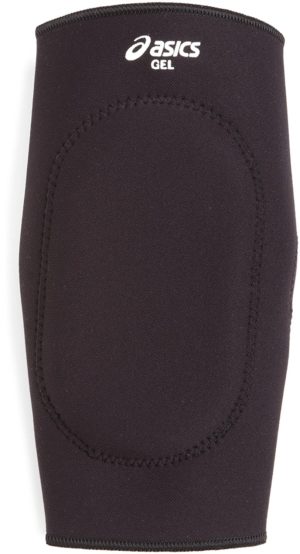 ASICS makes a lot of excellent wrestling gear including their knee pads. This ASICS knee pad comes as a single and works great for grappling and BJJ. The gel padding is great for high impact and helps with shooting takedowns. In addition to being great for impact, these are also very comfortable knee pads. These are made with a synthetic material and have an EVA padding.
While there are only two color options, you can get this knee pad in a few different sizes. ASICS makes great grappling products and these might be the best MMA knee pads they make. You should also check out other products from ASICS, they are great for wrestling and MMA training.
Comfort:

Fit:

Protection:

Value:

Bad Boy MMA Knee Pads
Not everyone has the best knees and it is sometimes necessary to get support for your joints. These Bad Boy knee pads for MMA are double padded for extra protection. They will keep you safe during takedowns and throws and other heavy stuff.
These are great to have if you are trying to keep your knees healthy or solid during an injury. You can get these Bad Boy Knee Pads for cheap and they work great. These knee pads fit really well and are very comfortable. This is a great option for anyone who is training on a budget.
Comfort:

Fit:

Protection:

Value:

Combat Sports IMF™ Tech Knee Pads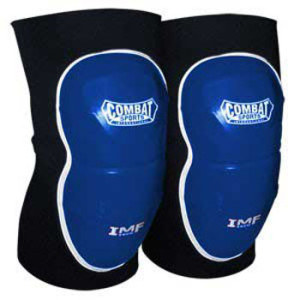 I typically use knee pads if I am wearing shorts and rolling on a mat that is unforgiving to the knees. These MMA knee pads by Combat Sports are a great options for knee pads. They have a neoprene sleeve and IMF tech foam protection.
These knee pads are comfortable and offer a great fit. They wont slide up or down on your knee while training and will provide excellent protection. You can get these knee pads for a decent price and they should last you a good while.
Comfort:

Fit:

Protection:

Value:

Title MMA Pro Neoprene Knee Pads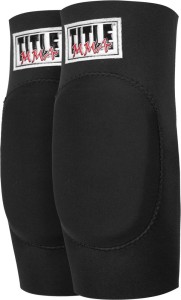 If you are looking for something a little more simple, these Title MMA knee guards are a great choice. They are pretty inexpensive and they are good quality knee pads. They slip into place pretty well and they do a good job staying in place. These are very good for preventing mat burn on your knees when rolling. Many people don't consider gear like this for long training days but your knees will thank you.
You can get this pair of Title MMA knee pads for a low price and they come in black. They are a very simple neoprene design that will help keep you protected during your training. If you have never worn knee pads before but have a problem with may burn on your knees, you should try these out. These are some of the best MMA knee pads you can get from Title.
Comfort:

Fit:

Protection:

Value:

Knee Pads in MMA
Knee pads can help prevent mat burn if you are rolling in shorts. I will reserve my knee pads for when I train at gyms that have tougher mats that may scrape your knees up. One time I trained with a catch wrestling coach in a Capoeira school. They didn't have mats so they just threw a tarp over a wood floor. Holy shit did my knees get torn up every time I rolled so eventually I got a pair of knee pads for MMA training. If you're looking for something for mostly grappling, check out our Best BJJ Knee Pads list.
Owner of evolvedMMA.com. I am a Certified Personal Trainer who trains Mixed Martial Arts. I review any and everything. I sometimes bet on fights!
Latest posts by Travis Williams (see all)