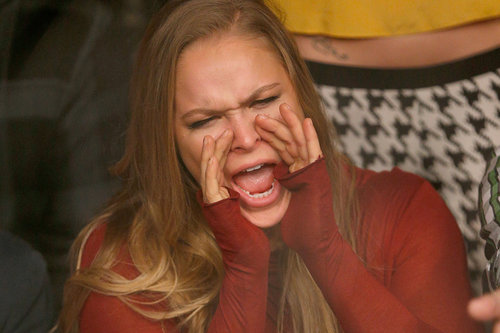 So you may be familiar with the fact the two of the biggest female faces in the UFC don't get along. They are not only in different weight classes, but they have different job descriptions. One is the reigning champion of the Woman's Bantamweight division, and the other lets you know what round is about to happen using a giant numbered card shaped like and octagon.
Recently Arianny Celeste called "Rowdy" a "Big "Bully" because she feels she is getting constantly picked on.
"I'm not going to talk about her because I'm not a fighter. I'm not going to waste my time. I actually don't talk about anyone. It blows my mind that someone who doesn't even know me continuously picks on me. And that's all I see her as: a big bully."
During the Media Scrum leading up to UFC 184, Ronda had some interesting things to say about the Ring Card bully victim
"What did I say that I was a bully? I said that the fighters should get paid more than the ring girls. That doesn't make me a bully, that makes me f-cking right.

"I'm sorry, but she wouldn't have a job if it wasn't for the fighters. She wouldn't. Do you think her walking in circles around the two guys or two girls out there like, fighting for their lives is worth more? You think she works harder than they do? I didn't say that she needed a pay cut. I said either the ring card girls are paid too much or the fighters aren't paid enough."
"For her to take that personally – you know what would have been the best thing for her to say? 'Oh my god! You know? These fighters work so hard. And I wouldn't have a job if it wasn't for them and I just admire them so much. Yeah, I definitely think that they should get paid more than anybody in the arena tonight.'

"There you go, a PR lesson for her."
"I've got a lot of respect for Brittney Palmer. She went and became a ring card girl to pay her way through art school and become a renowned artist. And, her being a ring card girl helped promote her art. If you're working at Hooters, because you're trying to pay your way through medical school? Then f-cking work it, girl. I respect the hustle. But don't think you're hot sh-t just because you work at Hooters. Use it to further yourself in life. Don't think that you're awesome just because you do that.

"I'm sorry, but I'm not impressed with the job in itself."
Owner of evolvedMMA.com. I am a Certified Personal Trainer who trains Mixed Martial Arts. I review any and everything. I sometimes bet on fights!
Latest posts by Travis Williams (see all)