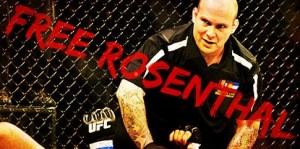 Long time Mixed Martial Arts referee Josh Rosenthal, who has become a familiar face of the UFC was sentenced today (July 2, 2013) in U.S. District Court in Oakland, California.
Rosenthal will serve 37 months behind bars with no hope for parole.
Josh Rosenthal has played a ref in a few MMA based movies. Maybe he will serve as referee to some underground prisoner MMA fighting league. Rosenthal black plead guilty to conspiracy to manufacture and distribute marijuana.
Also possession with intent to sell after he was found running a drug warehouse in Oakland with over 1300 marijuana plants worth over $6m on the street. According to the report, Rosenthal will also face a three-year supervised release; in addition he must must pay a $100 special assessment fee.
Josh Rosenthal was one of the UFC and their fan's favorite officiator.
Owner of evolvedMMA.com. I am a Certified Personal Trainer who trains Mixed Martial Arts. I review any and everything. I sometimes bet on fights!
Latest posts by Travis Williams (see all)