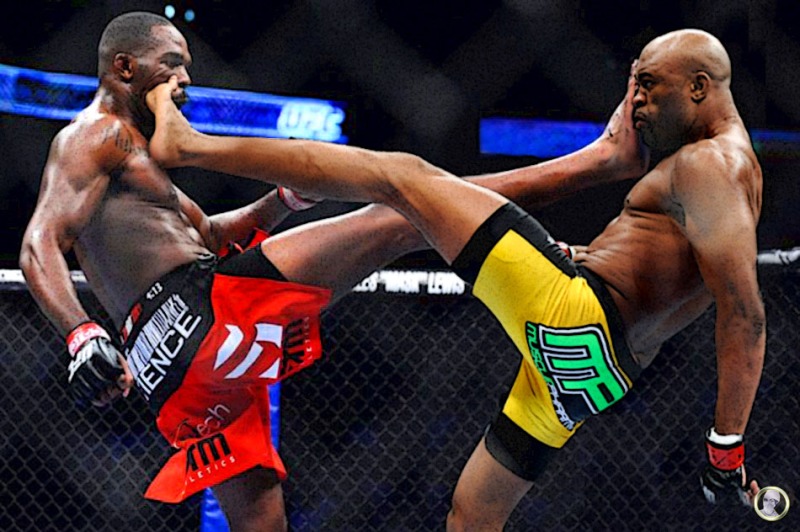 Jon Jones replied to a statement made today by Anderson Silva in regards to the idea of a Super Fight between the Champions of both the Middleweight and the Light-Heavyweight divisions. The fighters have both made statements in regards to the idea of the Super Fight. This fight is probably one of the most talked about possible fights that fans worldwide will want to see.
"My opinion is this: I'll fight Jon Jones, all the guys from my class, all the guys that work in the UFC – all the fighters," Silva said on Tuesday's new edition of "UFC Tonight." "I respect all the fighters. I respect Jon Jones. I respect Chris Weidman, but I'm here for working.

"I'm not scared of Jon Jones, of Chris Weidman or whoever. I'm here to fight. That's it. It's simple."
Silva made it clear that he is not completely opposed to the idea. We can imagine it would cost the UFC a lot of money to make this fight happen, due to the fact that neither fighter would want to tarnish their record. Hopefully we can hear more news on this as these fighters defend their titles.
Jon Jones replied to Silva's statement hours later. This is what he said:
"Honored to hear the statements Silva made regarding a super fight earlier today.. Doesn't change much, still working hard… I believe I am gifted and hard-working enough to pull out the victory against anyone."
The Super Fight has long been talked about and even us at Evolved MMA talk about it all the time. Both fighters are said to be the greatest pound for pound fighters in the world. Anderson Silva has been recognized as the greatest in the world, and one of the greatest of all time. While Jones is a little younger and less experienced, he has proven to be an unstoppable force in the Octagon without a competitive challenge in sight.
We believe Jones will take the win because of his incredible reach advantage and his strength. Jon Jones has pretty much dominated the Light-Heavyweight division and we believe the size difference will be the game changer. However it wouldn't be a surprise to anyone if Anderson Silva scored a win with his amazing striking abilities.
Owner of evolvedMMA.com. I am a Certified Personal Trainer who trains Mixed Martial Arts. I review any and everything. I sometimes bet on fights!
Latest posts by Travis Williams (see all)