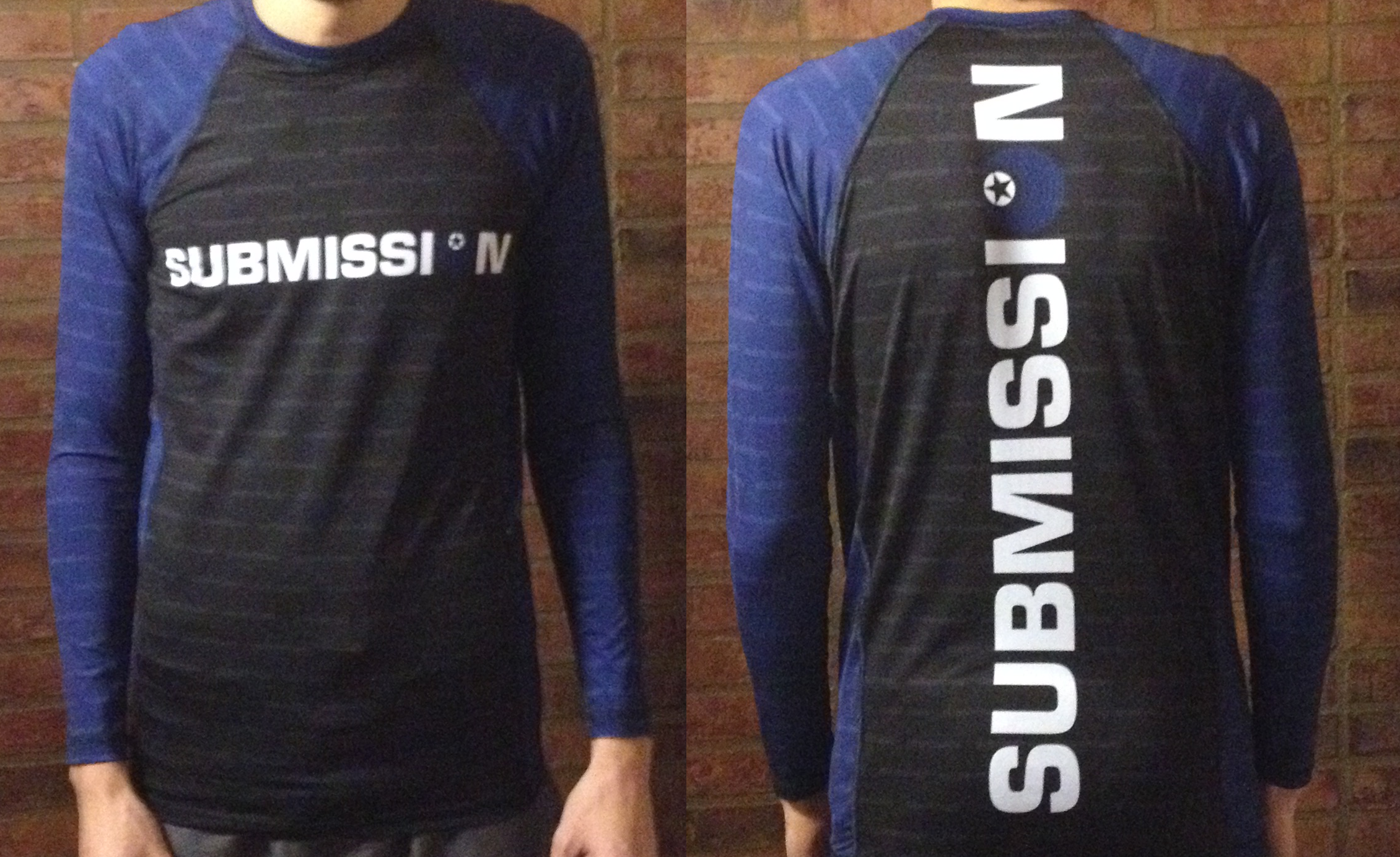 I recently received an IBJJF Ranked Rash Guard from Submission Fight Co. First off, one of the main things I like about this product is the fact it is made using recycled polyester. If you can be environmentally conscious while choking people unconscious, you classify as "good people" in my book. This Submission FC Rash Guard is also a product of the United States. This way they can see every step of the manufacturing process in order to ensure the highest quality while keeping jobs in America. Submission FC makes many products for the BJJ practitioner like Gi's, Belts, T-shirts, and more. The company is based out of California and they also sponsor BJJ athletes.
Submission FC Rash Guard
After putting on this rash guard I immediately noticed a difference from some of the others I have worn. Being a tall lanky guy, it is hard to find something that fits properly. I'm about 6'3″ 150lbs and I requested they send me a medium. I usually have to worry about something being too baggy or too short, and this rash guard fit great. It fit even better after washing it a couple times and didn't come up short anywhere. The rash guard is made from 84% recycled poly material and 16% spandex with a tear-away tag.
These Rash Guards are also IBJJF ranked so you can it with sleeves that match your BJJ belt ranking. This products is great for any kind of grappling or MMA training. I typically like a long sleeve rash guard when I roll No-Gi and this is one of my new favorites. This rash guard breathes very well so if you like to wear one under your Gi, you won't get too hot. The design of the rash guard is simple and looks very cool. I also like that the rash guard is extra long to help keep that muffin top under wraps. The rash guard was made with a method called sublimated printing which will ensure the design doesn't fade, crack, or peel away.
One of the more notable differences of this rash guard compared to others is the way it fits. Submission Fight Co says this rash guard is ergonomically cut specially for Jiu Jitsu training and you will know exactly what that means the first time you roll with it. This rash guard was meant to cover the body of a fighter. This rash guard allows you to move completely free of restriction and doesn't pull or snag. Bend down and touch your toes, wave your hands in the air like you just don't care –doesn't matter this rash guard will hold in place. It fits very well and it is also extremely comfortable.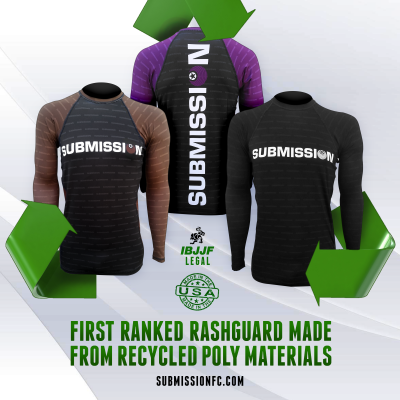 I recommend this Submission Fight Co product for anyone who trains any type of grappling. Whether its Jiu Jitsu, Judo, Wrestling, or MMA this rash guard is tough enough for any sport. It also makes a nice long sleeve compression shirt which is great to work out in. Overall I was very impressed with the quality of the product and the integrity of the company.
Comfort:

Fit:

Protection:

Value:

Owner of evolvedMMA.com. I am a Certified Personal Trainer who trains Mixed Martial Arts. I review any and everything. I sometimes bet on fights!
Latest posts by Travis Williams (see all)