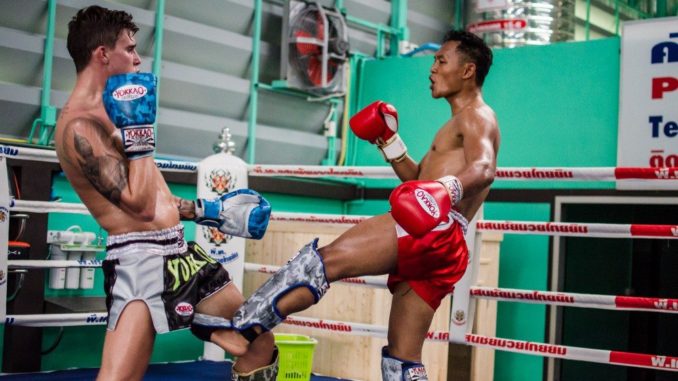 If you do any kind of regular training or sparring you want to make sure you have the right protective gear. Finding the best shin guards  for MMA and Muay Thai training will help to keep you and your training partners safe. Injuries can slow you down and keep you out of the gym so always wear protective gear when necessary.
Different Types of Shin Guards
For any training focused on standup striking and sparring, most Muay Thai shin guards will work well. They are usually nicely padded and sometimes bulky to help with impact on both ends. Muay Thai shin guards can sometimes slow you down in grappling or even come off.
Another common shin guard for MMA training is the instep guard or cloth shin guards. They are usually made from a cloth material with a small amount of padding and they slide over your leg like a strange sock with holes. These are some of the best shin guards for MMA training because they make grappling easier.
Best Shin Guards for MMA and Muay Thai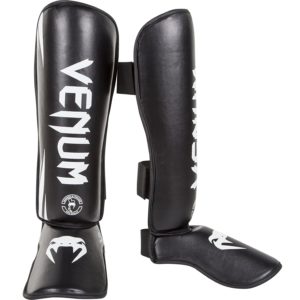 These Venum Shin guards are some of the best shin guards I have used for striking. They are very durable and made with 100% synthetic leather. They fit on easily with 2 large velcro straps on the back. These shin guards are lightweight and allow for easy movement.
You can get these shin guards in three different sizes as well as a few different color options. These shin guards are very well priced and will provide you excellent protection in the gym.
Value:

Rating: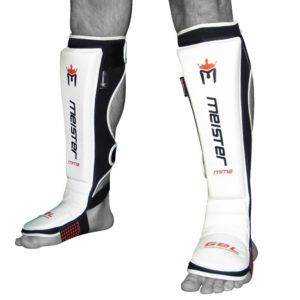 I really like a lot of the products Meister MMA makes. These shin guards are a really great product for MMA training because they work well for striking and grappling. These are made from 100% cowhide leather and have foam and gel padding.
These shin guards strap twice around your leg and 3 times around your foot to provide a lot of stability. You can get these shin guards in two different sizes and the adjust-ability really helps secure the perfect fit.
Value:

Rating: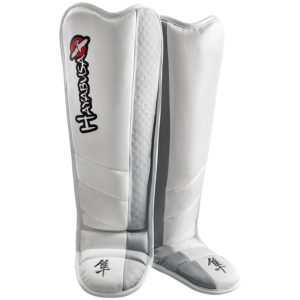 Hayabusa makes a nice variety of MMA gear including plenty of shin guard options. Out of their selection I think these are the best shin guards for MMA training all around. These shin guards fit on like an instep guard and provide a secure fit.
The lining of the sleeve is breathable and works to prevent sweat from running to the bottom of your feet. These are great for grappling and work well with striking and transitions.
Value:

Rating: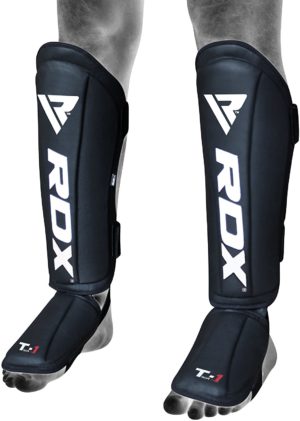 This pair of shin guards by RDX MMA is great for Muay Thai and kickboxing training. They provide excellent protection and are very lightweight which allows for easy movement. They cover most of the shin and foot which is great for all types of striking training.
You can get these shin guards in four different size and they can be adjusted to fit very well. RDX makes a few different types of shin guards, but these may be the best shin guards for MMA.
Value:

Rating: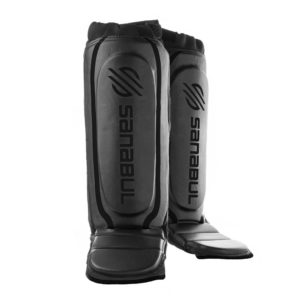 There are many different hybrid shin guards out there and this pair by Sanabul works very well. They are very lightweight and provide a secure fit. These shin guards will stay in place when grappling and provide decent protection when striking.
You can get these shin guards in a few different colors and sizes and they come at a great price. If you are looking for the best shin guards for MMA and grappling, these may be a good choice for you.
Value:

Rating:

Do I need to wear shin guards?
If you do a lot of regular training you will learn when you need to wear shin pads and when you don't. If you plan on fighting and will have to compete without shin guards, it is important to get use to that before you fight. However if you train a lot and never wear shin guards you are running the risk of injuring yourself or training partners. You wouldn't wanna get punched in the face without a mouth guard or kicked in the groin without a protective cup. I've seen people avoid checking kicks to avoid shin to shin contact which hurts. While being able to check those kicks are important, practicing with shin guards will help you develop better habits as you condition yourself to take harder kicks. So basically if you plan on training a lot, you should keep a pair of shin guards around for the times you need them.
Owner of evolvedMMA.com. I am a Certified Personal Trainer who trains Mixed Martial Arts. I review any and everything. I sometimes bet on fights!
Latest posts by Travis Williams (see all)