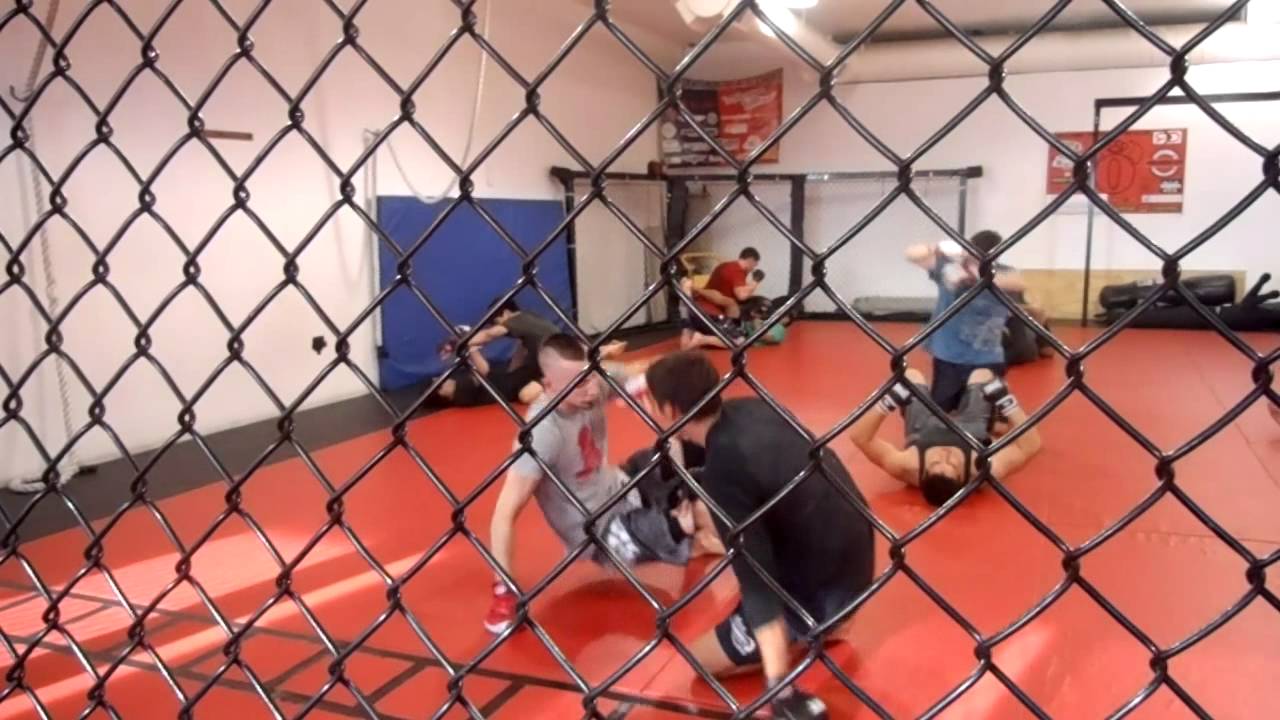 Sparring is a great way to work on many different fighting skills. You can put techniques in real time and see how they work when someone is trying to spar you at the same time. Many fighters like to break up different aspects of sparring to work on specific techniques. Sparring under a boxing rule set will give you time to work on your hands as well as your head movement. This will improve your punching ability as well as your power. Finding the best MMA sparring gloves can help you to spar safely and effectiveness.
Sparring under a kickboxing rule set will help you to improve your overall striking without focusing so much on wrestling and take downs. I have seen many gyms break up their schedule into different days like Kickboxing, Wrestling, BJJ or something to that effect. However the goal is to ultimately improve your MMA fighting ability so you also want to spar under the MMA rule set. This involves wrestling and submissions as well as punching and kicking. If you want to get the best experience, regular boxing gloves won't do. You want to get a pair of MMA sparring gloves also known as hybrid MMA gloves. These are a little thicker and more padded than the competition 4oz gloves. Most sparring gloves are around 7oz and fit the same way the regular fight gloves do.
Top 5 Best MMA Sparring Gloves
Hayabusa Tokushu hybrid 7oz gloves
Here's another great item by Hayabusa, these gloves are really tough. The design gives you padding similar to a boxing glove with the freedom to grapple. Some people prefer the smooth punching surface opposed to the individual finger fit. These gloves are great for sparring as well as bag and pad work and provide a really great fit. They don't offer thumb protection so make sure to include that in your hand wrapping.
These gloves are a little more expensive but they will last you for quite a while. I like the design of the glove and notice a difference in sparring. I feel like I have a lot of punching power as well as control with these gloves. The strap is very secure and the fit is comfortable. A great piece by Hayabusa and an excellent piece for sparring.
Comfort:

Fit:

Protection:

Value:

Venum Elite Sparring Gloves
These leather Venum gloves are really durable and provide a comfortable fit. The glove breathes really well and wraps securely around the wrist for extra support. These gloves are great for general training and provide a safe sparring environment. The gloves are not limiting and they really offer the freedom to grapple. These are some of the best MMA sparring gloves I have used and they come at a great price.
I really like the way these 7oz gloves feel. They aren't too bulk and fit like a dream. The gloves provide a full wrap-around strap which provides a secure fit and extra protection when striking. I enjoy a lot of the gear Venum has to offer and these Elite Sparring gloves are an excellent piece to add to any sparring collection.
Comfort:

Fit:

Protection:

Value:

Bad Boy Legacy Safety Sparring Gloves
These are another great priced pair of sparring gloves. They offer a unique double wrap fit that provides a secure fit. They are very comfortable and offer a 2″ padding around the knuckles. These gloves are made of genuine leather and costs around $60. These gloves offer a 5-layer foam designed to be light weight. They breathe very well and offer some nice ventilation areas. These are another great option for 7oz sparring gloves and they come in a couple different colors.
They are great for MMA training including striking and grappling. The strap system is a really great feature that provides a lot of wrist protection. These are great for sparring however I like them for heavy bag work. These are some of the best mma sparring gloves and  are designed for some intense training and have held up to any test I put them through.
Comfort:

Fit:

Protection:

Value:

Adidas MMA Sparring Gloves
Adidas is not particularly one of the biggest names in MMA gear, but it is one of the biggest names in sports. These Adidas Safety Sparring Gloves are designed for full contact sparring and offer great protection. The gloves are very comfortable and they offer a great fit. You will notice these are very secure on your hand and will not move around.
The wrap-around strap makes for a solid fit and extra protection. The gloves are meant to keep your hand dry and help your grip when clinching or grappling. These gloves are great for full sparring or grappling with ground and pound. I recommend you try out any of the Adidas MMA or Boxing gloves. They have some quality pieces of gear at a reasonable price.
Comfort:

Fit:

Protection:

Value:

Contender Palladium MMA Training Gloves
Another great pair for someone on a budget. You can get these Contender Palladium gloves for around $30, but they are still a quality glove. They provide great protection covering the hand as well as wrap around wrist strap. The have multi-layer padding with a pre-curved natural fit. These gloves come in white and you can get them in two different sizes.
If you have a lot of gear to buy, or you are trying to fill up your gym, these are great priced and are meant to last. If you're looking for a great low cost option, these might be the best MMA sparring gloves for you.
Comfort:

Fit:

Protection:

Value:

Title MMA Training Gloves
These gloves are great for sparring and are really well priced. For around $20 you can get a pair of gloves that will give you excellent protecting when sparring. These gloves cover the whole hand and the punching zone has a 2″ padding. Title makes many great products for MMA training and these gloves are a great addition to the collection. They provide great wrist support and have a comfortable fit. These gloves come in two sizes in the color black.
If you are on a budget or you still have more gear to buy, these will help you save money and still provide you with quality training. These are some of the best mma sparring gloves for the price, and they are made to last.
Comfort:

Fit:

Protection:

Value:

MMA Sparring Safety
I really don't recommend sparring with 4oz gloves and I also suggest you start light if you haven't sparred with gloves smaller than 16oz. Because MMA sparring gloves are a little more padded they help reduce the chance of cutting or hurting your sparring partners. They also aren't too large and enable you to grapple and go for submissions. Sure you can score some take downs with regular MMA boxing gloves on but these hybrid sparring gloves give you more freedom with your hands. The extra padding helps keep you protected through rounds of heavy training.
One thing I always stress in sparring is safety. You should always try to consider the other person's safety above your own. If you are going to be doing some heavy sparring it might be a good idea to wrap your hands before you start. Not only will it help you to avoid injury, you have to have your hands wrapped when you compete so it will give you better experience. I always wear a cup and a mouth guard when I do any kind of MMA training. Remember to wear the sparring gear in the gym when you have a chance. Some fighters prefer to train with less gear because that is how they compete, but I think that mindset will cause you endure more injuries than necessary.
While it is good to get real competition practice, it is also important to consider your safety. If you injure yourself while practicing, you might have to take a break which can slow down progression. Sparring is a great way to improve your skills and to give you the confidence in a fight. If you have done something a million times in the gym, it is going to be easy to bring to the cage. Finding the best mma sparring gloves can help you to spar safely.
Owner of evolvedMMA.com. I am a Certified Personal Trainer who trains Mixed Martial Arts. I review any and everything. I sometimes bet on fights!
Latest posts by Travis Williams (see all)