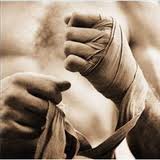 When you are training any striking art, it is important to wrap your wrists before striking anything that is going to give a lot of resistance. You can severely injure yourself if you were to hit a heavy bag or an opponent at full force without wrapping your wrists first. You should always wrap your hands for boxing, kickboxing, and MMA, especially if you are going to be striking something that may provide push back or resistance.
There are many different methods and techniques for wrist wrapping but it is important to find what is comfortable for you. Also make sure you are getting adequate support for your wrists as well as protection in the proper places. Some methods may be better for others when they don't work well for you. If you don't have any, check here for cheap wrist wraps.
How to wrap your hands for Boxing
When you are training, it is important to use boxing gloves especially when striking a heavy bag. You can find cheap boxing gloves online if you shop around. You can discover many discounts online you may not find in your local store. The price of boxing gloves can vary on the quality and brand you want. Many of them are similar and cheaper ones are great for beginners, especially if you are just using them for fitness. Many people can make the mistake of spending too much on martial arts gear and it can ruin their exercise or training experience.
Owner of evolvedMMA.com. I am a Certified Personal Trainer who trains Mixed Martial Arts. I review any and everything. I sometimes bet on fights!
Latest posts by Travis Williams (see all)