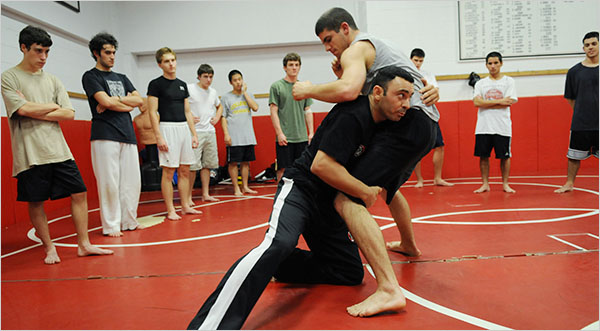 MMA is becoming one of the world's largest sports which is adding even more diversity to the already unique sport. Mixed Martial Arts has a very unique blend of the most effective combat fighting styles used for competition sport. While MMA does follow a strict set of rules, it is one of the most brutal sports in the world. More than just a test of strength and toughness, MMA requires fighters to be sharp in many different martial arts to be able to handle any aspect of a fight. Fighters need skills for standup fighting, ground fighting, and everything in between. Usually MMA fighters want to train the best martial arts for MMA so they can be most effective in the cage.
Best Martial Arts for MMA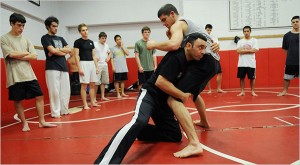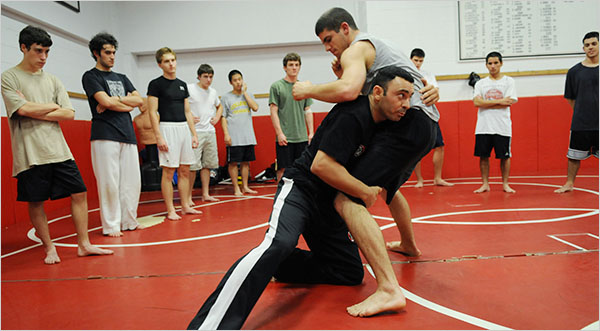 For standup fighting MMA fighters typically practice Western Boxing, Kickboxing or Muay Thai, and some other traditional martial arts. There are many styles of kickboxing but usually Muay Thai is included because MMA fights allow elbow and knee attacks where some kickboxing styles don't. There are a lot of punches in MMA so boxing is always a must for punching power and head movement. Most of the knockouts you will see come from a big right hand or a wild punch. Kicking is important because you can keep your opponent far away, and kicks are more powerful than punches. Fighters also practice clinching, when the two fighters are wrapped up with each other standing up. It usually occurs when fighters get too close to avoid attacks or to set up take downs. Clinching can sometimes be a battle of short ranged attacks like elbow and knee attacks to the body and legs. Or when one fighter has another pinned against the cage.
Fighters practice wrestling to take their opponent down and also to avoid being taken down. Some martial arts include styles of take downs as well as sweeps. Judo and wrestling offer most forms of take downs, throws, and slams. Other martial arts like Kung Fu, Karate, and Tae Kwon Do offer forms of leg sweeps and other wild take downs but they aren't usually considered the best martial arts for MMA. While these martial arts aren't primarily practiced for MMA, some fighters use their techniques. Wrestling is viewed as one of the most important aspects of MMA due to its controlling nature. They say a good wrestler can control where the fight occurs and it is easier for them to have control of the fight itself. Some fighters have even talked about practice of Tai Chi and push hands helps them with balance and clinch work.
For ground fighting there is a mix of wrestling, Judo, Jiu Jitsu, and striking. As strikes are allowed on the ground, fighters must practice offensive striking and striking defense on the ground. A fighter can either continue striking on the ground or attempt to submit his opponent to a choke or a limb/join submission. Such a submission will cause the fighter to either tap out and lose the fight, or become unconscious or have a limb torn or broken while still losing the fight. Ground fighting is important because many fights go to the ground and you need to be able to keep up with your opponent.
While training mixed martial arts there can be a lot of gear you need but you can often find it without breaking the bank. A lot of gyms offer loaner gear but it is something you should invest in if you are serious about training. Plus you don't wanna use a loaner cup or mouth guard, yuck. If you can't find anything in a local retailer for a decent price, you can always find something online. You can always save money by finding cheap MMA gear online through either an online store, eBay, or even Craig's List. Sometimes it is worth it to buying your pieces overtime, you can end up saving a lot of money that way.
If you are getting into MMA or any of the arts that make up mixed martial arts you are going to need gear. There are ways you can save money by getting your MMA gear online cheap. You can also join our MMA forum and speak with fighters about how to get into MMA and what arts are crucial to practice. Some of them will offer their opinion on the best martial arts for MMA.
Owner of evolvedMMA.com. I am a Certified Personal Trainer who trains Mixed Martial Arts. I review any and everything. I sometimes bet on fights!
Latest posts by Travis Williams (see all)