Some people have said this was one of the more interesting seasons of The Ultimate Fighter to watch, however I believe the show in general has declined. But I also don't know many shows who have had as many season as The Ultimate Fighter. Regardless of how you feel about the show, it does provide the UFC roster with some new talent and creates great fight cards. Basically at this point Joanna Jedrzejczyk and Claudia Gadelha hate each other and anyone who has tried to spell or pronounce their names. The fight card has an excellent main event for the women's strawweight title and some other great fights as well. One of the fights I am most excited to see is Ross Pearson vs Will Brooks who will be making his UFC debut. I am also very excited to see the bout between Andrew Sanchez and Khalil Rountree who were RFA fighters now making their UFC debut. Gray Maynard will also be on the card where he will fight Fernando Bruno. Also John Moraga will take on Matheus Nicolau in a flyweight bout. I also know that many fans will be excited to see a lightweight bout between Jake "The Celtic Kid" Matthews and "The Motown Phenom Kevin Lee. You can reserve your TUF Finale DraftKings lineups now.
All Fighters make weight and salaries for TUF Finale DraftKings become available.
TUF Finale DraftKings Picks: Joanna vs Claudia

Joanna Jedrzejczyk($10,100)
I am very excited to see the rematch between Joanna and Claudia Gadelha. There first match was a split decision back in 2014. I believe Joanna Jedrzejczyk has grown a lot since becoming the champion and will hold on to the belt after this fight. Joanna scores a lot of fantasy points and will be putting out a lot of strikes for 5 rounds straight if she can't get the finish. For someone who is around the median salary cost, Joanna is a great pick for your TUF Finale DraftKings lineups.
Khalil Rountree($9,700) vs Andrew Sanchez ($9,700)
Neither fighter in this bout has a ton of experience but both guys have fought in the RFA cage. Since both fighters have the same salary cost you can pretty much go either way with this. If you plan on making a few options for your TUF Finale DraftKings lineups, you may want to check out both of these fighters. If you believe one guy has the edge, then that's who you should go with.
Ross Pearson($8,300)
Much like his nickname Ross Pearson is The Real Deal. He always shows up to fight and doesn't get taken out very easily. He will be facing the former Bellator champ Will Brooks who will be making his UFC debut. While Will Brooks is the favorite, I really believe Pearson has a good shot at winning. Pearson's height and reach are 3 inches shorter than Brooks, but his UFC experience is much longer.
Doo Ho Choi($10,800)
The Korean Superboy Doo Ho Choi already has a couple impressive finishes inside the UFC cage. Thiago Tavares has many UFC fights including wins over some great fighters. However I believe the Korean will be able to utilize his 2 inch reach and 3 inch height advantage to take over the striking. I believe Choi is the better striker and will give Tavares a lot of trouble early in the fight.
Andrew Holbrook($9,800)vs Joaquim Silva($9,600)
Here is another fight where the fighters have very similar salary costs. I like fights like these because if you play a bunch of lineups you are able to play out multiple outcomes for your lineups. Andrew Holbrook will go into this fight with a height and reach advantage, and he has also had more professional fights. This fight we be each fighters second UFC fight as well as a fight to determine who remains undefeated.
Solid Underdog Picks
Cory Hendricks($9,200)
Amanda Cooper($8,400)
Cezar Ferreira($9,000)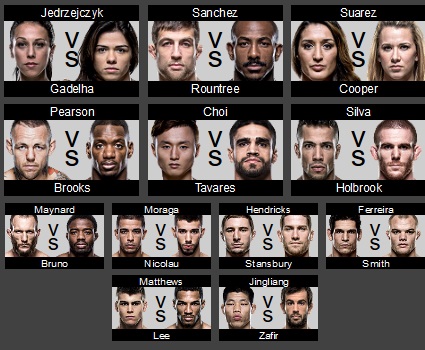 Owner of evolvedMMA.com. I am a Certified Personal Trainer who trains Mixed Martial Arts. I review any and everything. I sometimes bet on fights!
Latest posts by Travis Williams (see all)