The MMA year is already off to a great start and looks to make it even more exciting January 17th. TJ Dillashaw will be looking to defend his title against Dominick Cruz. This fight is one of the most highly anticipated lighter weight fights in the UFC. Dominick Cruz had to give up the title due to a string of injuries that prevented him from competing. Now that he is healthy, a fight between Cruz and Dillashaw was inevitable. Cruz's most recent win showed us how hungry he really is for his Bantamweight title back. TJ Dillashaw has really improved lately and has given us some excellent fights as the champion. UFC Fight Night 81 will include some other excellent fight including 5 bouts on Fight Pass. We will see Anthony "Showtime" Pettis step back into the cage against #4 lightweight Eddie Alvarez. Also Travis Browne will face Matt Mitrione in a heavyweight fight. The main card will also give us an exciting lightweight fight between Ross "The Real Deal" Pearson and Fransisco "Massaranduba" Trinaldo I am also very excited to see one of my favorite MMA fighters Jimy "The Kid" Hettes step back in action after having bad luck in his last fight. You can watch the prelims and the main card on Fox Sports 1. Draft your UFC Fight Night 81 DraftKings lineup now!
UFC Boston Fight Night 81 DraftKings Picks
*Augusto Mendes($8,600) has withdrawn from the bout and Kyle Bochniak($9,400) will take his place against Charles Rosa. Aususto Mendes will not earn points for UFC Boston DraftKings and should be left off your lineups.
TJ Dillashaw ($10,100)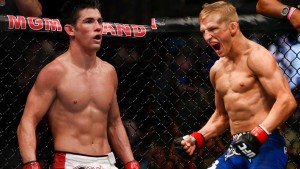 I think the Champ has been doing a great job lately in his recent fights. While the 2 TKOs against Renen Barao and a KO over Joe Soto might not impress everyone, I was very impressed. You can see drastic improvements in TJ Dillashaw's striking ever since he started training under Duane "Bang" Ludwig. Dillashaw even recently moved out to Denver to train with Elevation Fight Team and so he could be closer to his main coach. I think TJ Dillashaw has more ways to win this fight and will show us just how far he has come in his fight with Dominick Cruz. There is a good chance this fight could go all 5 rounds, but I have the champ winning the decision.  I believe many people will be picking the champ for their UFC Boston DraftKings lineups.
Anthony Pettis ($11,000)
I have a feeling Anthony Pettis is really hungry for the win in this one and will be looking for the finish any way he can. This was a fight people talked about back when Pettis was champion and should definitely make for good entertainment. There is a good chance this fight can go to decision, but I am counting on Pettis' ability to finish. I have seen him put away many great UFC fighters and make it look easy. Anthony Pettis has the highest DraftKings salary so if you don't believe in the former champ, leave him off your lineup.
Travis Browne ($10,200)
Travis Browne vs Matt Mitrione is the only heavyweight bout on the card. Both of these guys have a high average of DraftKings Fantasy Points earned per game. Looking at both of their records you can see most of their fights ends in the first round. I have a strong feeling someone is getting knocked out in the first round, and my money is on Travis "Hapa" Browne. While I think both men can finish the job, I'm gonna go with Browne. He has finished Brendan Schaub, Josh Barnett, Allistair Overeem, Gabriel Gonzaga, and he even went 5 rounds with the champ Fabricio Werdum.
Ben Saunders ($9,800) vs Patrick Cote ($9,600)
This will be the final fight on the Prelim card and should definitely be an entertaining one. This is one of two fights on the card where both fighters salaries are under the $10,000 average. So if you believe one fighter has the ability to finish the other, then pick them. I like the improvements I have seen in Ben "Killa B" Saunders fighting game lately. He has performed pretty well since returning to the UFC. I believe Saunders shows up to finish on Sunday.
Mehdi Baghdad ($9,000)
I have seen a few Mehdi Baghdad fights before and this dude can fight. He is fairly long and lean for the lightweight division. In this fight he will have a height and reach advantage over his opponent Chris Wade. Mehdi Baghdad has finished every fight he as won, and he has won the last several fights. I believe he is one of the lower salary fighters that has a good chance to finish his opponent at UFC Boston.
Sean O'Connel ($8,500)
Ilir Latifi vs Sean O'Connel is an interesting matchup in the light heavyweight division. Both of these guys are heavy hitters and I believe this fight will end with a knockout. O'Connel is the 2nd cheapest fighter, and Latifi is the 2nd most expensive for this UFC Boston DraftKings game. I believe Sean O'Connel will stay more active and finish the fight early.
Joey Gomez ($8,800)
Joey Gomez will be making his debut in the octagon against Rob Font who has one win by KO in the UFC. Joey Gomez has finished all of his professional fights by KO/TKO in the first round. I watched a couple of his fights and he has some pretty solid striking. If you are looking for someone with a very low salary to finish your lineup, Gomez is a great choice. I would like to see him continue the streak of 1st round finishes at UFC Boston.
Owner of evolvedMMA.com. I am a Certified Personal Trainer who trains Mixed Martial Arts. I review any and everything. I sometimes bet on fights!
Latest posts by Travis Williams (see all)