I am really looking forward to playing UFC 200 DraftKings fantasy games because of how stacked the card is. This may be the biggest UFC event of the year, maybe biggest event ever since UFC 100. This is one of those fight cards you need the whole day to enjoy because even the early UFC Fight Pass prelims look great with a bout between Diego Sanchez and Joe Lauzon. There will also be a women's bantamweight title fight between Miesha "Cupcake" Tate and Amanda 'The Lioness" Nunes. And of course the long awaited interim featherweight title bout between Jose Aldo and Frankie Edgar. I recommend that you play a few different lineups for your UFC 200 DraftKings games. Try to cover a few different lineup possibilities and consider every possible outcome including upsets. Choose your UFC 200 DraftKings lineups now!
Update: Jon Jones pulled from UFC 200, Brock Lesnar vs Mark Hunt is the new main event. Please make sure to remove Jon Jones and Daniel Cormier from all UFC 200 DraftKings lineups.
Update: Miesha Tate vs Amanda Nunes is the new main event. Daniel Cormier vs Anderson Silva added. Please make sure to edit all UFC 200 DraftKings lineups as needed.
UFC 200 DraftKings: Lesnar vs Hunt
Mark Hunt($10,400)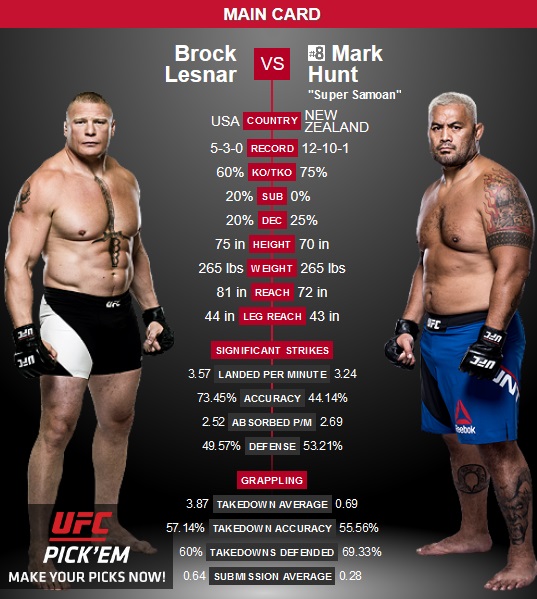 Who else is excited to watch Mark "Super Somoan" Hunt smash Brock Lesnar's face in? I really think this fight will be an easy walk off KO for Hunt. Brock Lesnar has fought since 2011 and lost his last 2 UFC fights against Cain Velasquez then Alistair Overeem. I don't think spending the last 5 years in the WWE has helped Lesnar's fight game much. I like watching Lesnar fight, and I would root for him against someone who isn't as dangerous as Mark Hunt. I am pretty confident Hunt wins this fight via KO/TKO.
Miesha Tate($10,700)
The women's bantamweight division has become very exciting to me since Ronda Rousey was taken out by Holly Holm. The world wanted to see a rematch between the two but Miesha Tate swooped in and snatched the title for herself. Now she will take on Amanda Nunes who has some impressive wins over some of the top women's bantamweights. I believe it is entirely possible we could see yet another new Women's 135lb champ at UFC 200. However I have seen many displays of Miesha Tate's toughness and I feel she is always improving. Most people would agree Miesha Tate was losing her fight against Holly Holm until she turned it around in the 5th round and choked the champ out cold. I believe we will see that same toughness and perseverance against an easier opponent in Amanda Nunes.
Jose Aldo ($9,500)
I am still scratching my head at these salary numbers, Frankie Edgar is $400 more expensive than Jose Aldo. I guess losing in 13 seconds to Conor McGregor really lowers your value. It is important to note these two fought before at UFC 156 in 2013 where Jose Aldo won by decision. Jose Aldo has only lost twice in his career, once by submission and once by KO. Frankie Edgar has only lost 4 times in his career, all 4 defeats by decision. This fight will most likely go to decision, and I feel that it could go either way. However I am going with the cheaper option in Jose Aldo.
Travis Browne($8,200)
It is very hard to pick against the former champion Cain Velasquez but it is also hard to pick him after his last performance. The heavyweight known for his cardio and pace seemed to get gassed pretty quickly during his last fight. I believe Travis Browne has shown a lot of improvement in his last few fights and could put together a finish against Velasquez. Unless Cain shows up a new man I pick Travis Browne to win via KO/TKO or eye poke, whatever happens first.
Cat Zingano($10,500)
It seems that "Alpha" Cat Zingano might have let herself go a bit after her last loss. She posted pictures of her transformation from around 170 lbs back down to closer to her fighting weight at 135. She suffered a very quick loss against Ronda Rousey over a year ago, but I believe she is going to come back stronger than ever. Before her last fight, Zingano was putting together a number of finishes and I believe she has what it takes to finish Pena. While Pena is one of the tougher fighters in the women's bantamweight division, I believe Zingano walks away with the victory.
Solid Underdog Picks
Julianna Pena($8,900)
Kelvin Gastellum($9,300)
Raphael Assuncao($8,300)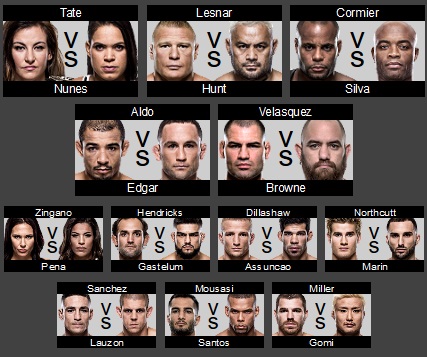 Owner of evolvedMMA.com. I am a Certified Personal Trainer who trains Mixed Martial Arts. I review any and everything. I sometimes bet on fights!
Latest posts by Travis Williams (see all)