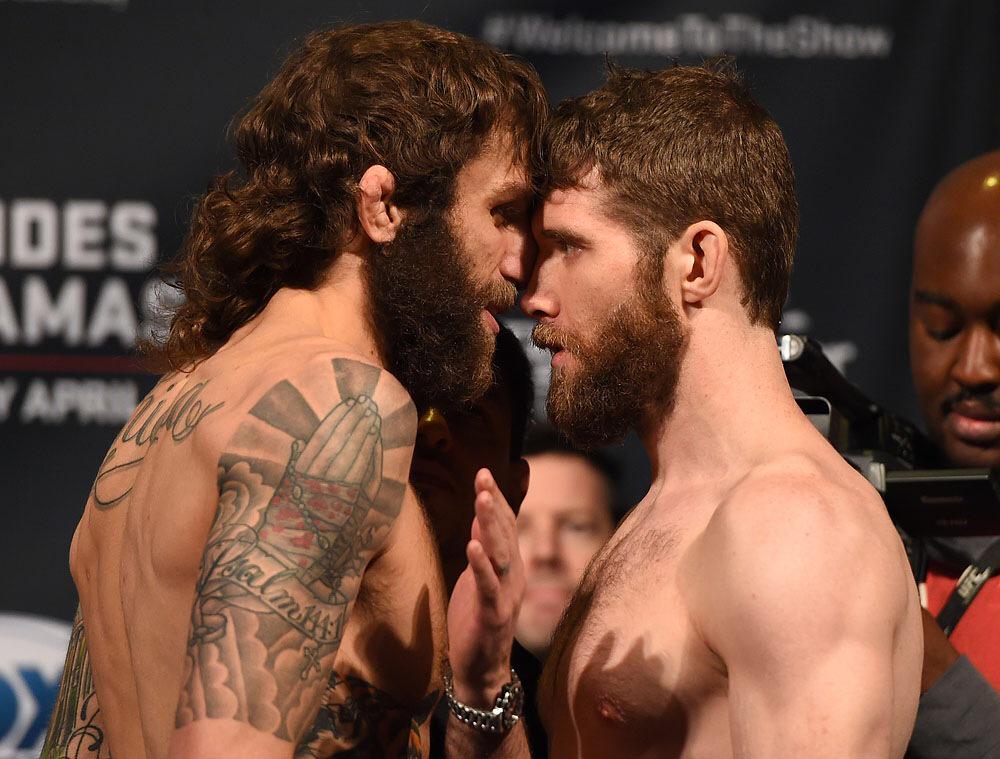 Weigh-ins, an event that takes place twenty-four hours prior to the scrap in the cage, is every bit as important as everything else leading up to the fight, maybe even more so than any pre-fight press conferences, media obligations, the open workout session, and numerous other examples. The weigh-ins are the finish line for a combatant, the golden-ticket to enter the cage and compete. Sometimes, a weigh-in can completely alter your preconceived notions of a fight, forcing you to be more drawn in and engaged. Leading up to UFC Fight Night 63 in Fairfax, Virginia, a fight between Michael "The Maverick" Chiesa (11-2-0) and Mitch "Danger Zone" Clarke (11-2-0) went from a good fight to must see T.V.
Chiesa and Clarke are both durable, creative, and, in many ways, comparable. On paper, fans understood there is a 50/50 chance these two lightweights would deliver a show since a combined 3 out of 8 fights have gone to the judges. Be it on the winning end or losing end of a finish, it's safe to presume these athletes would prefer the judges to go get a concession of choice during their bout.
This battle became an immediate grudge match as soon as Chiesa stepped off the scale to face off with Clarke. Moments as these are why I'd implore you to not miss the weigh-ins of any fighting event you'll be tuning-in to. Typically, fighters remain respectful during the final face-off at weigh-ins, shaking hands, a quick hug, or a bow; sometimes, they may not shake hands or not budge from their stance, which provides a spark of intrigue; once in awhile, two fighter come head to head and won't back down from one another's space, requiring an outside source to force the two apart. Weigh-ins that encounter the latter are prone to stamp, seal, and bring greater anticipation for the deliverance of a terrific performance.
After Chiesa weighed in at 155.5 pounds, he made his way to Clarke to face-off. Just as Maverick from Top Gun instigated war with his tactics, Chiesa bypassed any cordialness and let Clarke know it's on. Clarke extended his hand to greet Chiesa, though Chiesa reciprocated by extending his forehead into the middle of Clarke's. It appeared as though Chiesa was trying to make a point, right then and there, that a fight is going down tomorrow, so you better be ready! He collided heads with Clarke and was, clearly, providing him with some information as to the outcome to their contest because Chiesa was yelling in Clarke's face. Reacting, though too late for any real retaliation by Clarke, Clarke and Chiesa were pried away from one another as to not escalate things any further.
Rarely, especially at the level of the UFC, does anything more than a little pushing match occur on the stage when fighters may aggressively face-off with one another, but that little bit of pushing and shoving, that animalistic desire, changes the entire complexion of a fan's interest in a fight. These displays of passion detail for fans why they shouldn't miss their slot on the card; they force fans to constantly check their clocks to see if it's fight time yet. Tick, tick, tick!
By day, I'm an elementary school teacher. By night, an MMA enthusiast bringing those closer to the fence another perspective.
Latest posts by Dave Madden (see all)