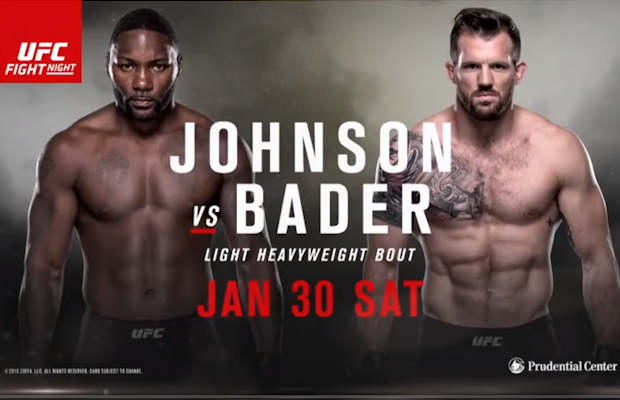 ANTHONY JOHNSON V RYAN 'DARTH' BADER
In what could probably be billed as a number one contender fight at 205 pounds this is a somewhat classic striker verses grappler showdown.
In Anthony Johnson you have one of the most terrifying strikers in the whole of the UFC. A man with incredible power in his hands and feet and a new lease at fighting since his return to the UFC after incredibly departing as a Welterweight and finding his home now at Light Heavyweight.
As for Ryan he's a gritty wrestler who's beginning to become more and more comfortable on his feet and will be very confident entering on a 5 fight win streak. He's been hounding the UFC for a title shot and with a win against Johnson they would find it difficult to deny him one.
Johnson's Keys to Victory:


He needs to keep this fight on the feet at all costs. Being the better striker technically and having fight ending power at any moment Anthony needs to come forward without being wreck less and be cautious of leaving himself open for takedowns. I'd like too see Johnson pace himself and not go for broke from the first exchange as his all out attacking style is known to hinder his cardio especially with this being a 5 rounder. If he can keep his back off the ground this will be a long night for Bader or quite possibly a very short one!
Baders Keys to Victory:

This is going too be the most important first round of Ryan's career he needs to weather the storm of strikes that will no doubt be unloaded by Johnson and be elusive and possibly time his opponents overzealous advances with a takedown and take the wind out of Johnsons attack. If Ryan can survive the first round and a half he should have a massive cardio advantage and will look to tire Johnson out with multiple takedowns and ground and pound throughout the rest of the fight.
The later this fight goes the better for Ryan and look for him to handily win the last couple of rounds with his superior wrestling and gas tank.
Anthony Johnson enters this contest a massive favourite -350 but I see this being a 50/50 fight with either fighter able to walk away victorious.
My tip is the underdog Ryan Bader at -250 to weather an early storm, edge out a decision and go on and fight the winner of Cormier v Jones.
BIG BEN ROTHWELL V JOSH THE WARMASTER BARNETT
This is an interesting match up between two of the UFC's biggest and most experienced heavyweights. Two men who believe there within touching distance of a title shot and one more victory could see them at the top of the division.
Big Ben is on a tear with an impressive 3 fight winning streak over some serious contenders (Brandon Vera TKO, Alistair Overeem TKO and a quick submission of Matt Mitrione). He seems to have gained a massive confidence boost which is working wonders in the octagon and will come into this fight surprisingly as the underdog but that wont worry him.
The Warmaster Barnett is coming off an impressive decision victory over the always tough Roy Nelson and the former UFC Heavyweight champion is making a late run for the belt. Having only competed in MMA 3 times in the last 2 and a half years Josh has been resting the body well which is needed at 38 years of age but still competing and winning some big grappling competitions in the meantime.
Rothwells Keys to Victory:

I feel like Ben has the slight advantage on the feet, he needs to use his footwork and jab to keep Barnett at range who will no doubt want that tie-up against the cage where he's so ruthless. Rothwell has a great jab and straight right and throws some good kicks he will need to utilize these weapons and be patient in not rush into a slugging match with Barnett.   He has the size and strength to disengage from Barnetts clinch if he finds himself there and should do so immediately. Ben may not be known for his grappling but he has a very heavy top game and although Josh is the superior grappler he's more of a top game pressure/submission hunter and isn't famous for submissions off his back. Id like too see Ben mix it up and surprise Josh with the odd take down as he's more than capable of winning with some heavy G and P.
Warmaster Keys to Victory:

Forward Pressure. Like he always does he needs to push the pace and put Ben on the back foot and up against the cage. With one of the best clinches in MMA there are few men able to survive the elbows and knees Josh delivers when he has them pinned to the fence. (See his destruction of former champ Frank Mir as a blueprint)
He also needs to utilize his superior wrestling and grappling from there. With his world class Catch wrestling, Rothwell will be in a lot of trouble if he finds himself on the bottom of the Warmaster.
I'm really looking forward to this fight I see it being a very tight contest with either man capable of winning if they can implement there game plan.
Josh is the slight favourite at -130 although moneys been coming in for Big Ben and has dropped to +110.
As with all Heavyweight battles big men and small gloves anything can happen but I think The Warmaster gets this done by bullying Ben against the cage and on the mat although never count out Big Ben he's always overlooked and constantly upsets the masses.
Special mention needs to go to the newest UFC wonder boy Sage Northcutt. The incredibly talented 19 year old will make his debut at 170 after 2 victories already at 155. After a late change in opponent he's fighting Bryan Barberena a striker with a 10-3 record.
With quite possibly the best physique in the UFC and the looks to go with it don't expect Joe Silva to be giving him any unfavorable match ups as they look to build him into a superstar. A massive favourite at -360 look for Sage to dominate from start to finish either on the feet or with his explosive takedowns and slick submissions.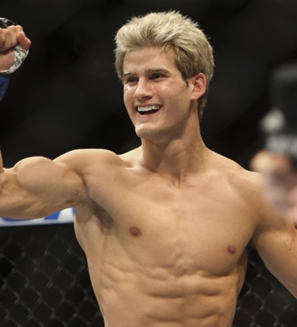 Latest posts by Ciaran McBrien (see all)