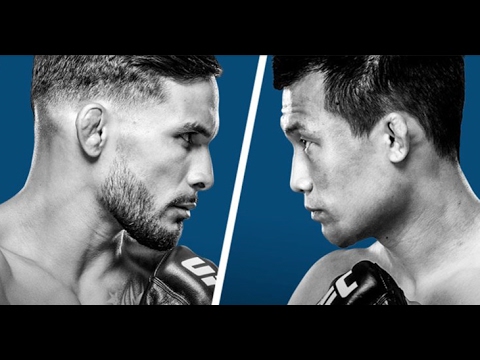 UFC Fight Night 104's main event between Dennis "The Menace" Bermudez and "The Korean Zombie" Chan Sung Jung lived up to expectations. It was a back and forth slug fest with neither fighter holding their own safety in high regard. However, at the end of the night it was "The Korean Zombie" who emerged victorious.
From the start, "The Menace" threw numerous over hand rights, one of which clearly hurt and staggered "The Korean Zombie". True to his nickname though, Jung kept relentlessly pressing forward throwing leather while defending numerous takedown attempts. During a brutal exchange, Jung caught Bermudez with a devastating uppercut and dropped "The Menace" at 02:49 of the first round for a comeback KO win – earning a $50,000 "Performance of the Night" bonus in the process.
What's next for Bermudez? I would like to see him face an opponent like Chad Mendes, who is similar in build and has a comparable skill set but is unfortunately, currently suspended. Perhaps Darren Elkins would be a better choice of opponent given how close they are in the rankings.
What's next for Chan Sung Jung? A suitable next opponent would be Jeremy Stephens or "The Korean Superboy" Doo Ho Choi (although they train together). The latter could (and should) headline a UFC card in South Korea and would undoubtedly help the company gain more exposure in a lucrative and emerging Asian market.
Latest posts by Daniel Clemenson (see all)