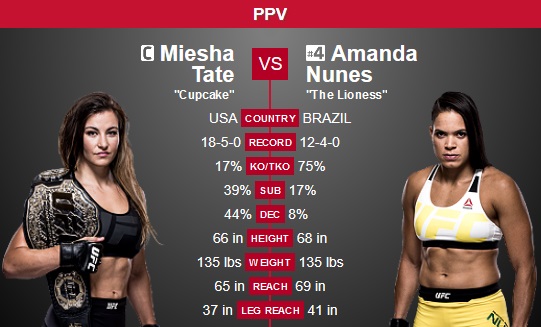 As UFC Fight Night 90, Rafael Dos Anjos was ending, Dave Sholler tweeted out a new Main Card order for UFC 200. Instead of Brock Lesnar vs Mark Hunt as the headlining bout, a 5 round title fight between Miesha Tate and Amanda Nunes will now top the card. For many fans it makes more sense to conclude with a 5 round title fight over a 3 round fight with a WWE wrestler.
While this card has seen a whirlwind of changes, it just might finally be coming together. First Nate Diaz vs Conor McGregor 2 was pulled, then the rematch between Jon Jones and Daniel Cormier was removed due to a USADA violation as well. We were told earlier today that Brock Lesnar vs Mark Hunt would be the Main Event but it was only scheduled for 3 rounds. It looks like they decided to go with the real title fight as the main event, and it is also the fight more likely to go 5 rounds out of all the previous main events.
Bout order for 200: Tate-Nunes, Lesnar-Hunt, Cormier-Silva, Aldo-Edgar, Velasquez-Browne.

— Dave Sholler (@Sholler_UFC) July 8, 2016
Earlier today Anderson Silva posted a photo on his instagram that said "It's Time for Spider" with the UFC 200 logo on it. While there were a few fighters who jokingly said they were offered the fight also posted on social media, we knew it was a joke. It looks like the negotiations were made and Daniel Cormier will fight Anderson Silva(for now).
It is interesting to see that Michael Bisping offered to take the fight but they went with Anderson Silva instead. Michael Bisping did get a decision win over Anderson Silva in a fight where many people though The Spider won. It may be because Anderson Silva is still a bigger draw than Michael Bisping even though he is no longer the champion. However you look at it, it will be an excellent fight. I would have loved to watch cocky Michael Bisping snatch another belt from the AKA camp but you can't always get what you want.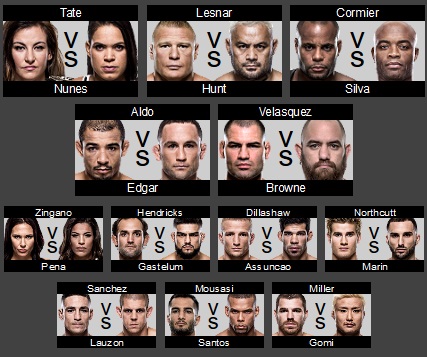 Owner of evolvedMMA.com. I am a Certified Personal Trainer who trains Mixed Martial Arts. I review any and everything. I sometimes bet on fights!
Latest posts by Travis Williams (see all)