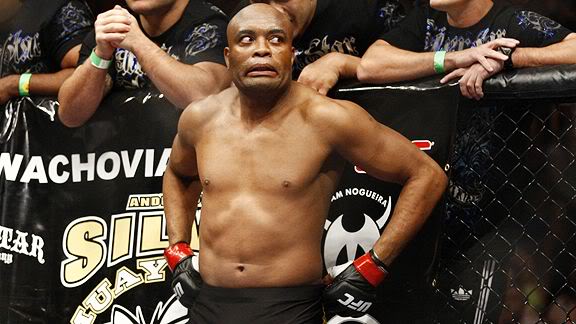 It appears as though our long awaited return for The Spider was not only anticlimactic, it has also been tainted. If you saw the fight you'll know it wasn't Silva's best fight and he wasn't able to take out a guy who use to fight at lightweight. Many people claimed that the champion had returned, but in reality — a 5 round decision victory over Nick Diaz doesn't really bring me back to the Silva glory days.
Say it ain't so Champ. He hasn't had a history of doping, so it's pretty disappointing to hear. Here is a statement released by the UFC:
"On February 3, 2015, the UFC organization was notified by the Nevada State Athletic Commission that Anderson Silva tested positive for Drostanolone metabolites on his Jan. 9 out of competition drug test. UFC's understanding is that further testing will be conducted by the Commission to confirm these preliminary results.

"Anderson Silva has been an amazing champion and a true ambassador of the sport of mixed martial arts and the UFC, in Brazil as well as around the world. UFC is disappointed to learn of these initial results.

"The UFC has a strict, consistent policy against the use of any illegal and/or performance enhancing drugs, stimulants or masking agents by its athletes."
On a higher note, Nick Diaz showed up at UFC 183 ready to fight and put on a great show for the fans. However, he may have just been having fun because of how high he was.
Silva popped for drostanolone in a PRE-FIGHT test conducted Jan. 9. Diaz over limit for marijuana from post-fight test

— Kevin Iole (@KevinI) February 4, 2015

I think it's pretty stupid that they are even testing for Marijuana. I have been trying to think of a way smoking marijuana can give a competitive advantage to a mixed martial arts fighter, but I just can't think of a way. I mean, a lot of people use marijuana medically to treat pain and it is safer than most medications. I think we should allow MMJ in MMA.
What's next for Nick Diaz? I'm not sure but I hope he rolls one up in celebration of not dying after being stuck in the cage with a roided out Anderson Silva.
Owner of evolvedMMA.com. I am a Certified Personal Trainer who trains Mixed Martial Arts. I review any and everything. I sometimes bet on fights!
Latest posts by Travis Williams (see all)