What great news, Vitor Belfort was reinstated to fight today. The terms state he cannot fight sooner than December and he has to fight in Las Vegas for his next bout. He is subject to random tests of his blood and urine at all times. They are even making him pay for the enhanced testing procedures. The news is very excited for many MMA fans and Vitor looked very happy with the result.
It's official! Vitor Belfort challenges Chris Weidman for the UFC Middleweight title on Dec. 6 in Vegas! What a war it's going to be!!

— UFC News (@UFCNews) July 23, 2014
The announcement is official, UFC 181 will be Chris Weidman vs Vitor Belfort on December 6th. Of course the fight will be in Las Vegas but we dont know the venue yet. I'm sure we can bump the Kings of Leon for another venue.
UFC 181 Chris Weidman vs Vitor Belfort
We were originally expecting to see these two fight back in may during UFC 173 however there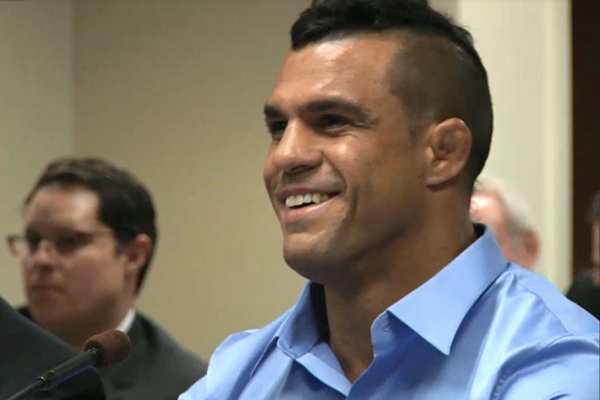 were complications due to the NSAC banning TRT in February. The Nevada State Athletic Commission's ban on Testosterone Replacement Therapy became the downfall of a few great fighters however it looks as though Belfort managed to bounce back.
While Lyoto Machida put on a great performance, many believe it is Belfort that will be the Brazilian to beat Weidman. We will see in December if there are no bad results from a random blood or urine test I suppose. Now we can finally quit this nonsense talk about Chris Weidman fighting Johny Hendricks. Lets at least wait for a few more title defenses on either side for that one.
Owner of evolvedMMA.com. I am a Certified Personal Trainer who trains Mixed Martial Arts. I review any and everything. I sometimes bet on fights!
Latest posts by Travis Williams (see all)