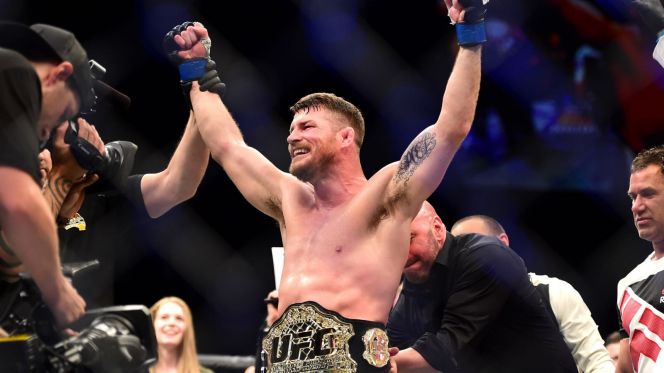 Sam Alvey made some interesting predictions during a very interesting fight card in Sioux Falls, South Dakota. After defeating UFC newcomer Eric Spicely, Sam Alvey claimed he was coming for the title. However instead of calling out Michael Bisping, Smile'n Sam let us know that Dan Henderson was going to win the belt and that's who he would challenge for it.
Sam Alvey who is known for his knockouts was able to end the fight with a very vicious guillotine choke in the first round. After claiming the victory, Alvey took the center of the octagon and posed several times for the crowd with his Smile'n face on display. Sam Alvey screamed for most of his interview and seemed very excited for the win.
Michael Bisping as a part of the Fox Sports 1 panel was able to immediately take a couple verbal jabs at Sam Alvey and his claims. Bisping said that Alvey may have taken a few too many shots and he didn't know what he was talking about. He also said that Alvey should check the dosage on his medications to make sure he is taking the right amounts. However many fans have wanted to see a rematch between Michael Bisping and Dan Henderson ever since their first bout at UFC 100 where Hendo won by knockout.
I hopped onto twitter to ask Michael Bisping how he would beat Sam Alvey in a fight, and he responds just how you would expect the newly crowned champ.
@Evolved_MMA@TonyFergusonXT@smilensam haha with extreme ease

— michael (@bisping) July 14, 2016
Michael Bisping says he beats Sam Alvey with extreme ease, and its hard to disagree when he made a win over Rockhold look easy.
Smile'n Sam may be a few more wins away from a title shot, but it would be fun to watch a fight between Sam Alvey and Michael Bisping.
Also me and Bisping are basically BFFLs now. Get over it.
Owner of evolvedMMA.com. I am a Certified Personal Trainer who trains Mixed Martial Arts. I review any and everything. I sometimes bet on fights!
Latest posts by Travis Williams (see all)