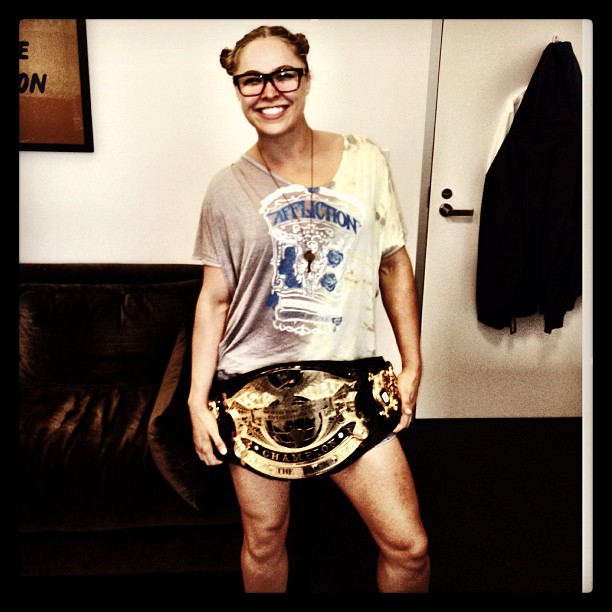 After making quick work of Sara McMann during UFC 170 with her first win by KO/TKO, Ronda Rousey is running out of competitors. There has been talk of several opponents capable of fighting Rousey, however most of them aren't even in the UFC. Recently Joe Rogan hinted at a big announcement on the Kevin & Bean Show. He didn't really get into much other than it was going to be a big announcement.
"Within the next probably week or so a huge announcement will come about women's fighting and I'll be back in [the studio] and we'll talk some more," Rogan said. "It's going to be crazy. Madness. I wish I could [talk about it now], but I would betray the confidence of my friend and employer."
Rousey is the biggest star in Women's MMA and could possibly be the biggest star of the UFC. So there is definitely a lot of hype around her and this fight. The UFC has the opportunity of matching a great fight, but they have limited options within the UFC. The only possible opponents that come to mind from the UFC are Cat Zingano and Alexis Davis. While one of those match ups might make a great fight, will it sell very well as a headlining fight for a PPV?
There are a few prospects outside of the UFC that can fight on Ronda's level. Cris Cyborg, Holly Holm, and Gina Carano are a few of the names that have been thrown around. These are three of the greatest fighters in Women's MMA and watching any of them take a shot at Rousey would make a great fight. Holly Holm, with multiple titles held in boxing and also voted as "Female Fighter of the Year" twice. She trains out of Jackson's-Winkeljohn's Mixed Martial Arts, and they produce more champions than any other MMA gym. Gina Carano would also be a great match up for Rousey, even though she has been out of the game for a bit. She was once the face of women's MMA during her run in Strikeforce.
Probably the most talked about bout would be Ronda Rousey vs Cris Cyborg. There has been talk of these two fighting for quite some time. Cyborg called Rousey out after UFC 170 saying she would retire her just like she retired Carano. However, Cyborg currently fights at 145lbs and her previous manager (Tito Ortiz) made the claim if she cut to 135lbs that she would die. Cyborg has recalled that claim saying with the help and supervision of her doctor she would try to make the cut to 135lbs. She will be doing so to fight for the 135lb title with Invicta FC. After that she plans on fighting Ronda Rousey.
Basically all we can do is wait for this "huge announcement" Joe Rogan talked about.
Owner of evolvedMMA.com. I am a Certified Personal Trainer who trains Mixed Martial Arts. I review any and everything. I sometimes bet on fights!
Latest posts by Travis Williams (see all)