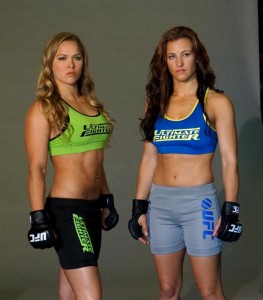 Ronda Rousey, world champ and coach on The Ultimate Fighter season 18 said that being a coach on the show has been emotionally taxing.
Rousey  was named the first female coach of the popular reality show and was originally supposed to coach opposite Cat Zingano.  Zingano earned the opportunity to coach The Ultimate Fighter and solidified her place as No. 1 contender to Rousey's crown by defeating Miesha Tate in April.  A knee injury, however, forced Zingano off the show and out of the anticipated title fight with Rousey. She was replaced by Rousey's longtime rival, Miesha Tate.
During the UFC 161, Dana White said filming this season of the reality is going "bad."
"Miesha and Ronda hate each other," said White. "It's like literally crazy drama every day."
Ronda Rousey says that coaching the show was more work than she thought.
"It's a lot more work than I thought it would be, and it's a lot more emotionally taxing than I thought it would be.  You care a lot about these kids.  I just felt like any kind of heartbreak or triumph, whatever they're going through, I share in it.  It's exhausting going through that over and over and over with every competitor," she said during a Facebook chat sponsored by Metro PCS on Wednesday.  "You're just so emotionally invested in every person that it really takes a lot out of you."
Rousey was impressed with the level of talent on the upcoming season, set to debut this Fall on Fox Sports 1.
"The talent is great.  I'm really impressed with the kind of people that we saw on the show this season for the girls and the guys.  All of the fights have been really exciting.  Really, it has exceeded my expectations."
For the first time, The Ultimate Fighter features male and female competitors living in the same house, while competing separately for aUFC contract.  Coach Rousey says there isn't the sexual tension some have speculated there would be, but said it's been an emotional season.
"Surprisingly, it is much more professional than you would have thought.  I wouldn't say it's an overly sexual season, but I think it's a much more emotional one," she said.  "So far, it's tiring, and it's every day.  It's been a very exciting season, but it has also been very taxing on everybody.  So I think we're all going to be very happy to get home, but I'm sure all the fans will be very happy with the result."
Owner of evolvedMMA.com. I am a Certified Personal Trainer who trains Mixed Martial Arts. I review any and everything. I sometimes bet on fights!
Latest posts by Travis Williams (see all)