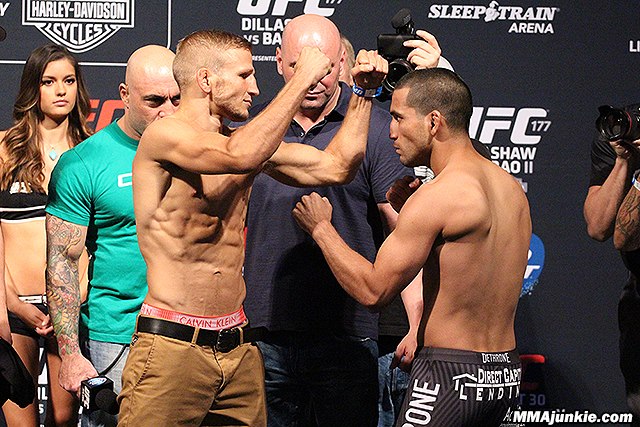 Well this has been a pretty hectic UFC event it seems like. First Olympic Gold Medalist Henry Cejudo is forced off of the card due to medical reasons. The Flyweight has been waiting a while for his UFC debut since joining his MMA career in 2013. He was set to face Scott Jorgensen and now that fight has been removed. Dana White is giving Cejudo one more shot to fight for the UFC.
UFC 177 was supposed to be the rematch between TJ Dillashaw and Renan Barao, the bout from UFC 173. However, due to a botched weight cut Renan Barao was hospitalized. TJ Dillashaw believes the former champion didn't want the fight in the first place.
"He hasn't missed weight at any of his fights," Dillashaw told reporters backstage after the weigh-ins. "It's more like I mentally broke him and he doesn't want to fight me. I think the coaches wanted the fight more than he did. He should have done this a couple weeks ago, not today."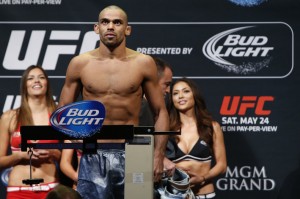 This is a huge opportunity for the former Bellator champion Joe Soto who is 15 – 2 in his professional career. His only two losses are to Joe Warren where he lost his title, and then his next fight after with Eddie Yagin for the vacant title. Now he is coming off a 6 fight win streak having fought mostly for the Tachi Palace Fights promotion in California. Soto will be making his UFC debut against an occasional training partner TJ Dillashaw.
Dillashaw was not excited about the news but he wants to make sure he can prove to the fans that he is a fighting champion. But there aren't many options when you have a problem the day of the weigh-ins.
Dana White is very unhappy with Barao's previous weight cut and his camp's methods. Weight cutting is a strange aspect of the sport that everyone does their own way. However you need to make sure you are being healthy and cutting weight properly.
"I see it as, first of all, you got enough money to get a real nutritionist to go in there and watch what you're eating. The guy's gotta go in there and do it the right way or don't cut weight, move up to 45. Don't cut weight. It's part of the sport, things are going to happen. Sucks when it does but it happens. … He won't get a title fight after this."
Owner of evolvedMMA.com. I am a Certified Personal Trainer who trains Mixed Martial Arts. I review any and everything. I sometimes bet on fights!
Latest posts by Travis Williams (see all)