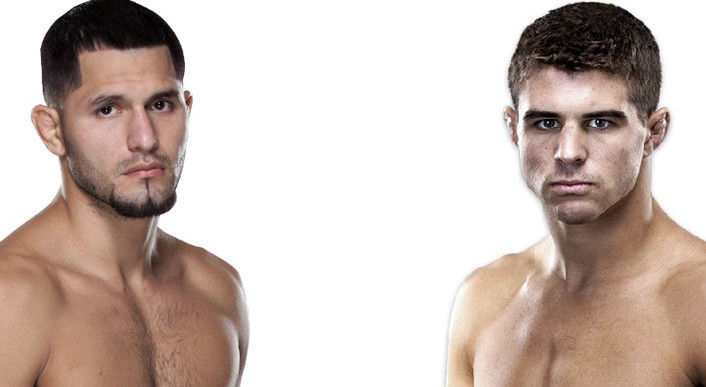 Following the UFC's recent stop in Fairfax, Virginia for UFC Fight Night 63, headlined by Chad "Money" Mendes (16-2-0) and Ricardo "The Bully" Lamas (15-3-0), controversy swirled around the two lightweights in the co-main event, "Raging" Al Iaquinta (11-3-1) and Jorge "Gamebred" Masvidal (28-9-0). Not only were the judges' scorecards controversial, the behavior of these two competitors, following their contest, called into question their level of professionalism.
In order for the sport of mixed martial arts to further its growth into mainstream, an audience must not only perceive these athletes as having elite and top-level athleticism, but they also must observe them as professional. Professional fighters aren't expected to attend press conferences or other media events in three-piece suits, carry around a briefcase, or attend meetings for further developmental and collaborative learning in their chosen career. Their sole purpose is to train to their fullest potential, and then enter the cage, ring, or Octagon, to earn a victory and display their abilities to the crowd, though there should be a level of decorum these athletes, categorized as professional, are held to, just as the professional class of our society; otherwise, their perception as "backyard brawlers" will never subside.
Simply from a fan's perspective, when fighters, such as Iaquinta and Masvidal, put on a performance as they did, finishing strong and aiming for a no-judges-needed rendering, emotions can be revved up when a decision doesn't go the direction that, possibly, a majority of viewers anticipated. In the case of Iaquinta and Masvidal, the commentators suggested the victory may go to Masvidal, and, based on the disfavor of Virginia's fans after a reading of the scorecards, the crowd clearly felt Masvidal had done enough to earn the victory.
Whether it's poor judging, or a difference of opinions, any professional fighter could, potentially, find his or herself in a similar situation, so what are the expectations that should be placed upon these high profile athletes. These two lightweights were just engaged in hand-to-hand combat, emotions are high, and there are rankings and sponsors to think about with each accumulated win, or loss. The stakes are high, yet all the stakeholders have to find a way to mask any expression of temper or irrationality.
When veteran voice of the Octagon, Bruce Buffer, read the winner, by split-decision, was Iaquinta, the crowd rained down a deafening roar of disapproval. During Iaquinta's post-fight interview in the Octagon, the crowd didn't appear to be letting up, and Iaquinta lashed out with a "Raging" tirade that required the television network to cut the microphone feed. See for yourself.
https://www.youtube.com/watch?v=xyDVcOY6au0
With one winner and one loser, a fighter may feel justified in acting out against any negative responses, though how one reacts to a particular situation is a facet outside of their training that also defines their role as a professional athlete. Turning on a crowd, cursing at them, and storming out of the cage in disgust isn't the behavior expected from one who is labeled a pro.
Masvidal's reaction to the decision, what he would describe as a robbery, was immediately understandable; he smiled a sarcastic grin of disapproval, quickly praised Iaquinta and his corner with a fist bump, and made his way out of the Octagon to the backstage area. His dissatisfaction and desire to escape didn't cross a line of unprofessionalism, but a video he created later, via MMA Junkie, definitely crossed any sort of line of professional behavior; in fact, what he said, to many, would be considered inappropriate. What do you think?
Most would agree that citing racial overtones as a means to a decision not going your way is extremely unprofessional, and would be called out as unacceptable in any professional realm.
Professionals in our society: lawyers, doctors, teachers, dentists, and the like are battle-tested with situations that may seem unjust. If any of the careers listed above fired back with a curse-laden rant or racially-charged comments, the high regard of the term "professional" would lose its esteem; thereby, stripping down any of the elite abilities society comes to expect from these individuals.
By day, I'm an elementary school teacher. By night, an MMA enthusiast bringing those closer to the fence another perspective.
Latest posts by Dave Madden (see all)