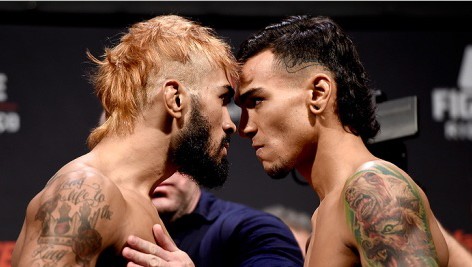 With UFC Fight Night 62 wrapped up, headlined by Damian Maia (20-6-0) and Ryan LaFlare (11-1-0), the mixed martial arts community is able to sit back and reflect on what transpired in the Octagon. There have been rumblings that the main event was boring, lackluster, and underwhelming. The high level of controversy with the fight between Drew Dober (15-7- 0) and Leandro Silva (18-2-1) was tough to watch; check it out via MMA Mania

It's easy to overlook the high level feats that force viewers back to the living room, bar, live event, or wherever you tune in. Why is there not more discussion of the Godofredo Pepey (13-3-0) submission of Andre "Touchy" Fili (14-3-0)?
Fans of MMA tune in for the finish. If it's not a spectacular knockout, a slick, or explosive, submission will suffice, and that's exactly what viewers received to kick off the main card. Leading up to the fight, these two featherweights looked ready to go at weigh-ins, so it was safe to assume that either one was capable of finishing the other. It turned out that the Brazilian got the finish in Brazil, but how he finished should not be an afterthought.
Pepey's flawless technique places him in an elite class of submission expertise. From set-up to finish, the former Ultimate Fighter Brazil competitor's performance was visible to those who matter most, the Zuffa executives, because he earned one of the Performance of the Night bonuses, a finish worth $50,000!
MMA is never predictable, though there tend to be positions that fighters find themselves in that fans recognize as a position where action requires some development. For example, when fighters are fighting against the fence, they typically get a takedown, push off for space, jockey back and forth for position, or occasionally foot stomp. None of this is formulaic, but it's a tendency fans have become accustomed to while they wait for what's next to transpire.
Lucky for us, there was no waiting around when Pepey was forced against the fence. A rather ordinary fighting of hands and wrist control developed into a carnivorous plant attacking by its roots. When, or if, you watch the fight again, you can clearly see how Pepey obtains all the necessary control he needs with his hands before letting his legs get to work for him. 
Watch for yourself via MMA Core
Pepey was aggressively pressing Fili's right wrist against his body, which, without knowing the finish, looked like a normal combatant's wrist control. Fili had Pepey pressed hard up against the cage, and this, unknowingly, afforded Pepey the opportunity to attack with his legs. Pepey inched his back up against the cage until he was on his tiptoes. Then, before Fili could react to Pepey being so high against the Octagon's walls, Pepey threw his legs straight up in the air, rolling his back against the fence to get his leg in the position he needed them. Bam! Pepey's left leg was over Fili's shoulder and underneath his right knee, thereby, locking up the triangle. Fili gave every ounce of fight he could, like a fish out of water flopping to get back to sea, but the submission was deep and, soon, after led to Fili's "Touchy"ing in a tapout motion to wave off the fight.
Pepey's finish demonstrated masterful technique, and fights other than main events or controversial decisions can easily be glossed over when they, instead, need to be spotlighted.
By day, I'm an elementary school teacher. By night, an MMA enthusiast bringing those closer to the fence another perspective.
Latest posts by Dave Madden (see all)