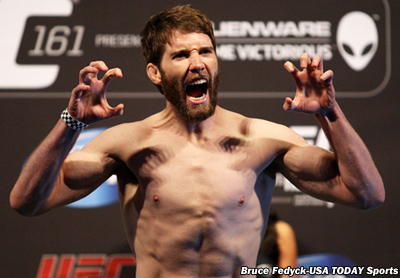 On a recent edition of The Parting Shot Podcast-Episode 98, Mitch "Danger Zone" Clarke (11-2-0) discussed how, using "invisible pressure", he will pick apart Michael "The Maverick" Chiesa (11-2-0) on the feet at UFC Fight Night 63 in Fairfax, Virginia.
Though the two have similar records, Clarke believes that he possesses the better stand-up in this match-up. When asked whether or not Clarke had the better striking, he summed up his abilities with,
"I think so. I've just progressed in my stand-up and boxing. I think I'm a better striker."
Clarke not only evaluated himself as superior on the feet, but he also described himself as different. Speaking of Chiesa's stand-up game, Clarke states,
"He uses his striking to overwhelm guys, get in their face, and then set up his grappling."
Clarke's assessment appears fair,  as the UFC's statistics reflect that Chiesa strikes approximately 18% of the time; whereas, Clarke's striking percentage is, a bit more in the "Danger Zone", at 30%.
Both Clarke and Chiesa are both strong grapplers, yet Clarke contrasted his stand-up to Chiesa's as having better footwork and using an "invisible pressure." This pressure he spoke of leaves much to the imagination of the listener because Clarke didn't provide a great deal of clarification as to how "invisible pressure" benefits his striking skills. He described "invisible pressure" as,
"…"invisible pressure" is a kind of [striking] thing, at least, that's what we call it. It's slowly taking our time and picking out shots versus spazzing out."
Without knowing exactly what "invisible pressure" is, it appears safe to assume that Clarke is not entering the Octagon with any intent of rushing anything. It may also be that Clarke is giving glimpses into the secret of his approach, without giving away the whole enchilada; it may be "invisible pressure" is some sort of secret code cooked up by Clarke and his team at the MMA Lab in Glendale, Arizona.
In trying to clarify "invisible pressure", Clarke posted on Twitter (see below) that he'd discuss it further in the post-fight press conference, which causes one to further speculate that there is something invisible to the fans' eyes of how Clarke will specifically attack Chiesa.
@DMaddenMMA @thepartingshot will do post fight, remind me after this weekend

— Mitch Clarke (@MitchClarkeMMA) April 3, 2015
Tune into Fox Sports 1 on April 4, 2015 to watch the contest between these two lightweight competitors because, standing and banging or taking the fight to the ground, Clarke and Chiesa are two fighters whose determination to win will not be invisible to anyone watching.
By day, I'm an elementary school teacher. By night, an MMA enthusiast bringing those closer to the fence another perspective.
Latest posts by Dave Madden (see all)