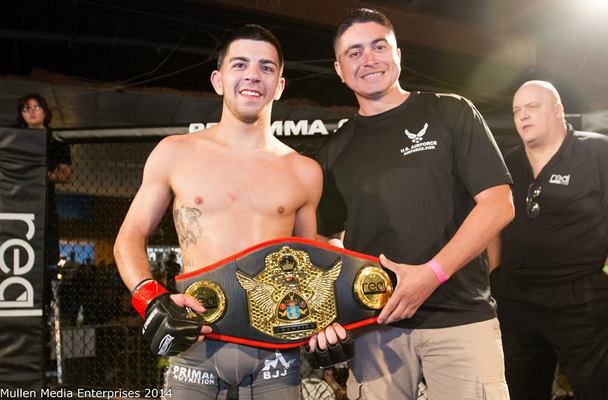 On episode 63 of Cage Side Submission Radio, CSSR, with host Steve Rychel and co-host Rachel Blaze, Matt "White Chocolate" Turnbull (AM 4-1-0), an amateur mixed martial artist from Philadelphia who has won four out of his last five, hit the airwaves to discuss his upcoming fight at World Cagefighting Championships, WCC 13. WCC 13 went down on March 20, 2015, and Turnbull submitted Damien Melendez (AM 2-6-0) with an armbar, providing Turnbull with his third submission victory, though some of the comments in Turnbull's interview left a lasting impression.
According to Tapology.com, Turnbull is the fifth ranked amateur bantamweight in Pennsylvania, and his sights are set on continuing up the ranks and developing as a fighter. This young fighter is explosive and takes advantage of any openings, no matter how small they may be. For example, take a look at his finish of Stephen Leonardis by clicking here.
The same ability he demonstrated in the cage to explode on opportunities was also displayed by his candor about, arguably, the greatest fight family: the Gracies. Agree or disagree with his opinion, Turnbull is doing what fighters should do to gain recognition in the ever-growing sport of mixed martial arts. In order to be noticed, you have to stand out and stepping out of the shadows to express your true feelings with no sugar-coating is a great way to do so.
During the interview, Steve Rychel asked Turnbull how he thinks he could handle the shift of making it into an organization like the UFC, traveling to a place like Brazil, and encountering the Brazilian chant, "Ooh via mohe!", which MMA fans have learned to translate from Portuguese as saying, "You're gonna die."
"Yeah, I don't have many nice things to say about any Gracies, so I don't think they'd [Brazilians] would be too welcoming [of me] with open arms."
This comment received the reaction that many would mimic: Rychel chuckling, most likely from prying words out of someone that are not typically heard, and saying, "I'm going to stay away from this one", and Rachel Blaze repeating, "Uh oh, we don't want to go there."
The amateur bantamweight continued in his interview saying,
"Renzo, I like Renzo Gracie. He's like one of the only Gracies I like. I can't stand any of the older ones. They can all f–k off to be honest."
This got some more chuckles and more "uh ohs", and Rychel validated his feelings by saying, "We're all entitled to our opinions my friend."
This portion of the interview wrapped up with Turnbull stating,
"I pissed a bunch of people off; I f–ked up."
Turnbull's, Jerry Spring like, closing thought on this issue did not carry a tone of regret; instead, it was matter-of-factly spoken across the cyber ethos for all to let simmer.
Rachel Blaze stamped all this Gracie talk with, "you got a lot of lovers out there; it's all good."
On Turnbull's Facebook page, he posted an interview by Luke Thomas at MMA Fighting entitled, Ralek Gracie: 'Before Metamoris, Garry Tonon Was Known for Losing to Kron'. Turnbull posted a comment alongside this article as saying, "And before Metamoris, Ralek Gracie was known as a guy who…nobody knew. [I] F—king can't stand the Gracies. Clearly some bad blood here that'd have to be dug up to truly understand!
Whether you think Turnbull is wrong, brash, opinionated, or anything you want to believe, the fighters who speak their mind go beyond the simple "company man" and are remembered by the fans of the MMA community. Fighters such as "The Notorious" Connor McGregor (17-2-0) who talked his way into a featherweight title fight against Jose Aldo Jr. (25-1-0), or Bethe "Pitbull" Correia (9-0-0) who, has been argued, leapfrogged other competitors with her talk about "Rowdy" Ronda Rousey (11-0-0), and Rousey's teammates move the needle and reach their destination by calling for it, not waiting around patiently for matchmakers to set-up bouts. It seems Turnbull has, intentionally or not, implemented the proper formula to his media game when he reaches the pros and someday enter the Octagon.
By day, I'm an elementary school teacher. By night, an MMA enthusiast bringing those closer to the fence another perspective.
Latest posts by Dave Madden (see all)