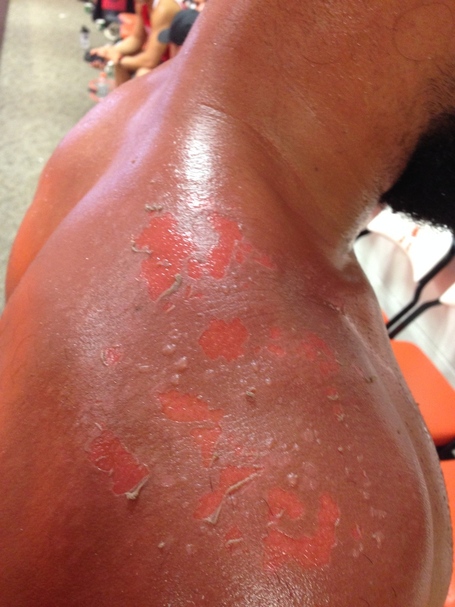 What's this? Weeks before his fight with the champ Johny Hendricks suffers second degree burns to his back and shoulders. Apparently while filming a promo commercial for UFC 167, somebody made a huge "Uh Oh!" They film Johny wailing on a heavy bag while under a spotlight, but apparently the lights were too close. The burns caused Hendricks to miss a couple practice days before his fight with Georges St Pierre. Even though he's been training for a long time for this fight; a couple days of training weeks before you fight can be crucial, especially against GSP.
The burns on Hendricks were bothering him in training so he missed "one-to-two days" of training according to his manager Ted Ehrhardt. Hendricks did visit a doctor who prescribed him an ointment for his skin, and he returned to training two days later. The UFC did apologize to the contender for the incident, and Ehrhardt said they seemed to be in disbelief. Hendricks also stated that he doesn't get sun burned in the summertime.
"Johny never gets pissed off about anything," Ehrhardt said. "He was just mad that it was messing up his training, that's all."
This is a very strange incident and has the MMA community talking. One of the headliners for the UFC's next PPV title bout gets burned while promoting the fight, weeks before the event. There are a few sources calling this a conspiracy, but that may be a little farfetched. It's not like somebody took a pipe to Hendricks knee right before he walked out(ice-skating, MMA, all the same). On the other hand, there has been some conspiracy talk about GSP "cheating" in the past. The Vaseline incident against his fight with GSP being one of the better known incidents. However you look at it, this fight is going to be awesome regardless of the Hendricks burn. The fight is still set for Saturday, November 16th in Las Vegas, Nevada.
In case you were wonder, the promo for UFC 167 Geroges St. Pierre vs Johny Hendricks it totally awesome. Check out the video from the UFC:

UFC 167 Geroges St. Pierre vs Johny Hendricks for the welterweight world championship. Saturday November 16 at the MGM Grand in Las Vegas.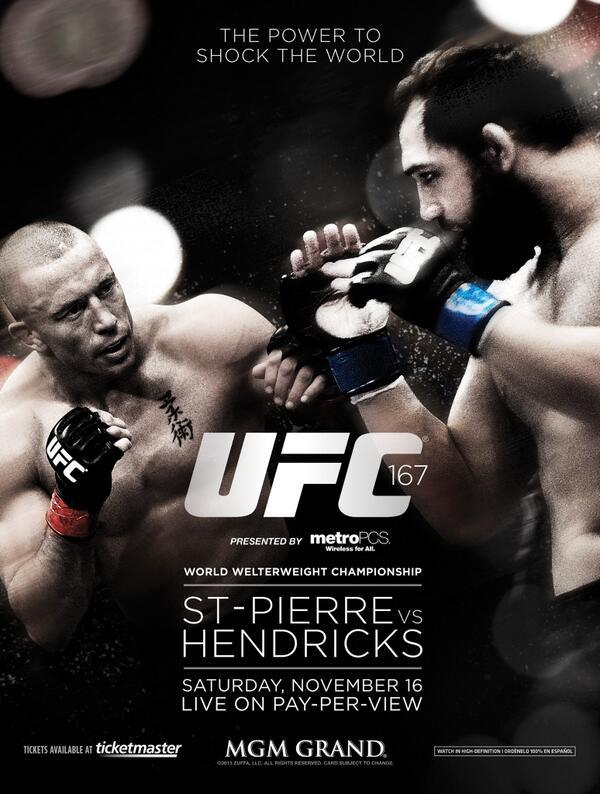 Check out a Georges St Pierre Workout in our Rushfit Review.
Owner of evolvedMMA.com. I am a Certified Personal Trainer who trains Mixed Martial Arts. I review any and everything. I sometimes bet on fights!
Latest posts by Travis Williams (see all)