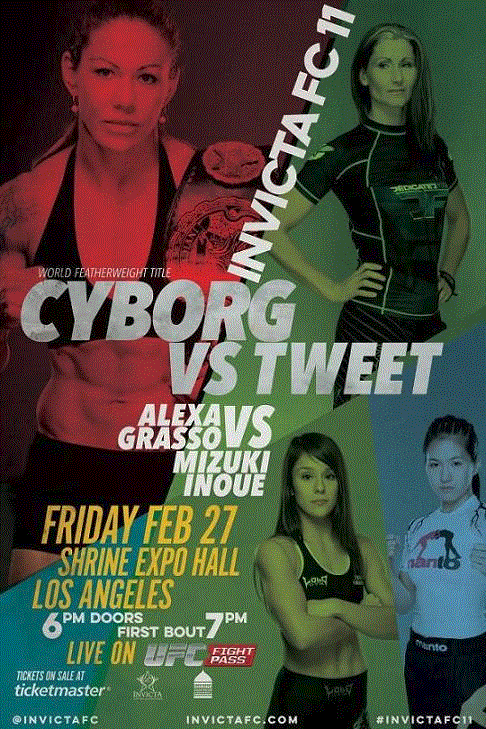 As if playing host to UFC 184 on February 28th,  was not enough it's recently been announce that Invicta FC 11 will also be taking place in Los Angeles California, the night before, on Feb. 27th. Los Angeles, California, is going to be treated to an amazing weekend of MMA action, featuring the two biggest names in Woman's MMA.
Invicta FC 11, will see Cristiane "Cyborg" Justino make her first Invicfa Featherweight (145 lbs.) title defense against Charmaine "Not So Sweet" Tweet. The next night in the co-main event of UFC 183 Ronda Rousey will defend the UFC's Woman's Bantamweight (135 lbs.) title against Kat Zingano. The animosity that exists  between the "Cyborg" and Rousey has been well publicized. Call me a conspiracy theorist but, it feels like a win from both ladies could lead to the fight we all want to see?
But before I get ahead of myself  Cristiane "Cyborg" Justino, who's not fought in MMA since July of 2013 when she defeated Marloes Coenen by 4th round TKO to win the title, will have to get through Charmaine "Not So Sweet" Tweet. Who's won 6 of 7 and 2 in a row, including an Invicta FC 8 1st round TKO win of Veronica Rothenhausler. Justino will be looking to get back in the winners circle coming off a March 2014, unanimous decision loss to Jorina Baars in a Muay Thia bout at Lion Fights 14. Tweet in victory has been to the decision with the 1 TKO and 5 submission wins.
In the co-main event slot Mexico's undefeated Alexa Grasso meets Japans Mizuki Inoue. Grasso is 2-0 in Invicta with a  unanimous decision win over  Ashley Cummins and a TKO of Alida Gray. Inoue is 1-1 in her last 2, with a armbar of Emi Tomimatsu and a split decision loss to Karolina Kowalkiewicz, at Invicta FC 9.
Returning to the Invicta FC cage for the first time since Invicta FcC3 with be newly resigned Lynn Alvarez, and throwing the welcome party will be Deanna Bennett.  Alvarez after 15 months away from the cage put Amber Stautzenberger to sleep in 45 seconds with a rear naked choke at Dakota FC 17. Bennett, undefeated and a member of The Pit Elevated Fight Team, is 2-0 in Invicta FC with TKO of Michelle Ould, and a recent unanimous decision win Over Jennifer Maia.
Invicta FC 11
Cris Cyborg (12-1) vs Charmaine Tweet (6-4)
Alexa Grasso (6-0) vs Mizuki Inoue (8-3)
DeAnna Bennett (6-0) vs Lynn Alvarez (6-3)
Irene Aldana (4-1) vs Melanie LaCroix (3-2)
Jamie Moyle (1-0) vs J.J. Aldrich (1-0)
Brianna Van Buren (3-1) vs Amy Montenegro (5-1)
Christine Stanley (3-1) vs Rachael Cummins (4-0)
Kristi Lopez (2-0) vs Aspen Ladd (0-0)
About the author Mika Frankl is the creator of CagedMinds.com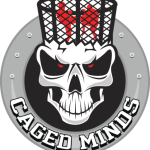 Mika is the creator of CagedMinds.com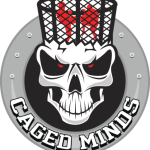 Latest posts by Mika Frankl (see all)