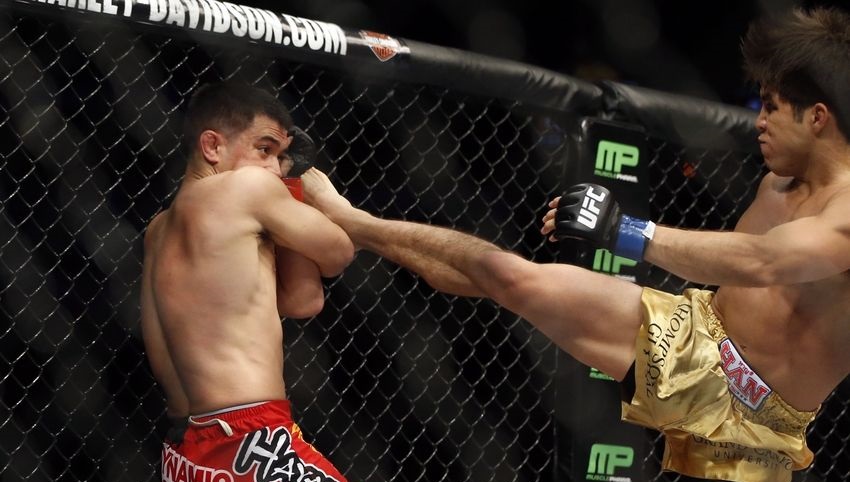 UFC 185's main card was stacked: two title defenses, Anthony "Showtime" Pettis (18-3-0) losing his lightweight belt to Rafael Dos Anjos (24-7-0), and Carla "Cookie Monster" Esparza (11-2-0) also giving up her women's strawweight belt to the challenger Joanna Jedrzejczyk (9-0-0); a welterweight contest between Johnny "Bigg Rigg" Hendricks (16-3-0) defeating Matt "The Immortal" Brown (21-13-0) for, potentially, a number one title contender's position; a clash of heavyweights that had the potential of ending the night with their one-punch knockout power, Roy "Big Country" Nelson (21-11-0) losing to Alistair "The Reem" Overeem (39-14-0) by a unanimous decision. So many high profile athletes that the jump start to the main card was, seemingly, overlooked, and Henry "The Messenger Cejudo (8-0-0) wants you to see the message he brings with him into and out of the Octagon.
Personally, I was very intrigued with the matchup between Cejudo and the tenth ranked flyweight, Chris "Kamikaze" Cariaso (17-6-0). The 2008, Olympic gold medalist, Cejudo, performed at an incredibly high level in his prior match against Dustin "The Diamond" Kimura (12-3-0), and this was at the bantamweights' 135 pound limit, ten pounds more than the flyweight's 125 pound limit. It was the type of performance that proved to fans how deserving he is to enter and compete in the Octagon with his, symbolic, gold shorts. It seemed that dropping to a lower weight class would, more likely, increase Cejudo's ability to perform even more dominantly over guys who were more comparable in size.
The flyweight division is probably the least competitive division in the UFC, so a fighter of Cejudo's caliber, and background, could quickly catapult him to the top of the rankings, meeting Demetrious "Mightly Mouse" Johnson (21-2-1) for the title. Cejudo wasn't very impressed with his own performance saying,
"Being a fighter from Mexican decent,…I wanted to at least demonstrate some sort of stand-up, like I did in my last fight. It felt a little tight in my forearms and chest from the weight cut.…"
Cejudo had answered all the questions of his ability to make the flyweight limit and still compete at a high level. Dominance is not the only message Cejudo carries into and out of the Octagon. Cejudo was able to share his words, and truly become "The Messenger", by being asked to deliver a message about his performance. After first spreading his word in Spanish, he translated for himself, and the message was,
"Like I said, I've been fighting as a little kid, fighting for ice creams in the ghettos of Pheonix. Now, as I'm a twenty year old kid, getting the chance to fight for the UFC gold. It means a lot to me, and the message I have, the reason why I'm called 'The Messenger', it's not so much because of the game; it's something that's more spiritual about life. I live by this model called DREAM: dream big, sacrifice all, and enjoy victory."
After delivering his message, it was well received by Dana White because, before another fighter could be asked a question, he stamped the fact that Cejudo just found a spot on the UFC's 186 Mexico City card, headlined by Cain Velasquez (13-1-0) and Fabricio Werdum (19-5-1) to unify the heavyweight championship belt on Saturday, June 13, by saying,
"He's good. He's going to Mexico City, for sure!"
Cejudo is a touted prospect who will skyrocket up the flyweight ranks, so keep your eyes on him. He delivers his message loud and clear, round by round.
By day, I'm an elementary school teacher. By night, an MMA enthusiast bringing those closer to the fence another perspective.
Latest posts by Dave Madden (see all)