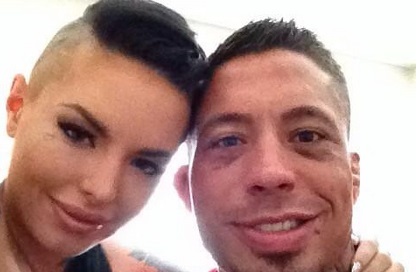 So who else is super excited to see that Duane Chapman aka Dog the Bounty Hunter has joined the search for War Machine. The girlfriend beating MMA fighter War Machine, formerly named Johnathan Koppenhaver is currently on the run after an incident earlier this week. He has been accused of some horrible things and if you read Christy Mack's official statement you would be horrified as well. She release some photos that show just how badly she was beaten.
War Machine faces 7 arrest warrants and a $10,000 reward for his capture. Recently on twitter Dog the Bounty Hunter said he is coming for War Machine. Hopefully we see that monster captured soon.
While it is a terrible thing that she was abused, it seems like Christy Mack's story is missing some things. Recently War Machine's brother, Michael Koppenhaver shared his brother's side of the story with BJPenn.com.
Christy Mack and War Machine were in fact still together, and were seen at a Bellator event several weeks ago. He returned to her home to find her having sex with another man. War Machine and the other man got into a physical altercation and Christy grabbed a knife, and War Machine in fact fought for his life, much like he claimed on Twitter when the incident first occurred. Michael went on to tell us that the reason War Machine hasn't turned himself in is because the judge from his last stint in jail would be his judge in this case, and he feels that she wouldn't grant him a fair trial.
However, the fighter still remains on the run and we don't have all of the details.
Owner of evolvedMMA.com. I am a Certified Personal Trainer who trains Mixed Martial Arts. I review any and everything. I sometimes bet on fights!
Latest posts by Travis Williams (see all)