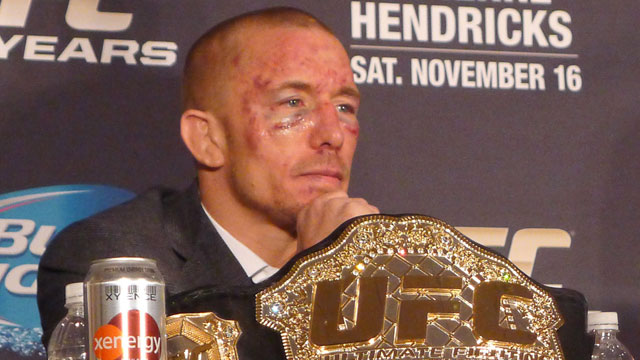 After the much anticipated championship bout between Georges St Pierre and Johny Hendricks fans were left a little disappointed at a very surprising judges decision. UFC 167 ended with a split decision victory in favor of the champ GSP. For many spectators this decision was surprising because it appeared Johny Hendricks won most of the rounds and took less damage. Dana white talks how the fight is about damage and Bigg Rigg dealt much more damage to the UFC star.
After a tough five rounds the judges scored the fight 48-47, 48-47, 47-48 in favor of the defending champ GSP. While we weren't sure we'd see Johny last for five rounds he kept a good pace and stood toe to toe with St Pierre for 25 minutes.
At the end of the fight George St Pieree talks about taking time off. While he didn't come out and say he was retiring he did make it seem like he was. He was talking about hanging up his gloves for a little while and taking a break. This is pretty disappointing for fans who are eager for a rematch, let alone Hendricks who probably wants a rematch more than anyone.

Dana white talks about how he is furious with the decision and how he really believe Johny Hendricks won the fight. He goes on talking about the flaws with the Nevada State Athletic Commission and how incompetent they are. It really is frustrating when you get really strange scores from the judges that don't make any real sense. There have been multiple occurrences of two different judges scoring the fight 30-27 for a different fighter. It really opens your eyes to how the scoring and judging system can be skewed and provide conflicting results.
Now it may be a stretch to try to go back to the days where there were no timers or gloves and you fought until the fight was over. There has been talk about the UFC looking into their own officiating commission like other big names sports, NFL, NBA. However Boxing was so corrupt in the past it could result in more problems than solutions.
Georges St Pierre Retirement talk?
GSP talked about taking time off but Dana White didn't agree. He says it's not fair to the fans, to Johny Hendricks, and its not fair to the belt. He says GSP has to fight again, he cant just take a hiatus and come back when he wants. Whatever GSP has planned, he is pretty much rich enough to be set for life. Dana White has said multiple times GSP has enough money to retire. He has been the reigning UFC champion for a while now and hasn't lost a fight in years. Plus he has other ways of making money: acting, promotions, his fitness app, GSP Rushfit, and he is pretty much one of the most famous people in Canada.
Owner of evolvedMMA.com. I am a Certified Personal Trainer who trains Mixed Martial Arts. I review any and everything. I sometimes bet on fights!
Latest posts by Travis Williams (see all)